Do you know what CrazyForCraft Toolbar is?
CrazyForCraft Toolbar is just another way for Mindspark Interactive Network, Inc., to make some easy money by creating a browser extension that looks useful. Since certain system security issues may arise from the presence of this toolbar in your browsers, we have put this extension into the category of "bad toolbars." A lot of users do not even think that a toolbar can present them with any danger and therefore leave them on their computers. Not knowing the risks and consequences may lead to a compromised computer, more infections, or, in the worst case scenario, even being scammed out of your money. That is why we suggest that you remove CrazyForCraft Toolbar from your PC. How you can do that and more details about this infection you will find if you continue reading our article.
Are you a fan of handcraft? Then it is possible that you will search for a browser extension that could provide you with quick links to homemade craft ideas, DIY projects, sewing patterns, and more, just like CrazyForCraft Toolbar promises. It may happen that you end up on this toolbar's official site at crazyforcrafts.com; however, we somehow doubt that this would be on the first few pages of search results. Still, let us see what you risk knowingly when you click on the Free Download button and start installing this extension. The Installation window will alert you that this toolbar can, for example, read and change your browsing history, manage your downloads, and manage your apps, extensions, etc. Would you really like to have an extension on your computer that has this kind of freedom?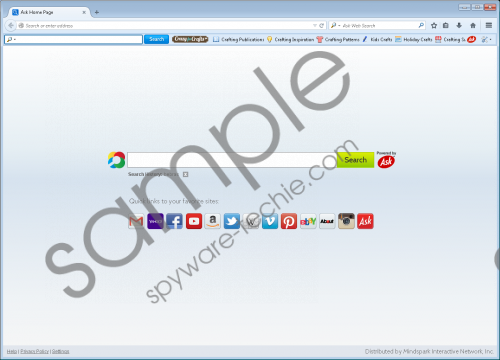 CrazyForCraft Toolbar screenshot
Scroll down for full removal instructions
However, this is not how most users get this bad toolbar onto their computers. It is more probable that you download a bundled version from a shareware or torrent website, most likely from one of questionable reliability. These websites commonly host third-party bundles that may contain malware infections along with legitimate free software. Downloading such an infectious software package can be rather detrimental to your system security, although installing it is even worse. You need to understand that in the installation wizard you are usually offered an option to deselect unwanted programs, and then those will not be installed. But, if you overlook this step, deleting CrazyForCraft Toolbar will not be enough to clean your computer of malware threats. It is also important to scan your system for other threats; otherwise, you will not be totally safe and protected to use your computer or surf the web. The best would be to install a decent security program that can nip malware attacks in the bud and protect your computer from infections entering it.
CrazyForCraft Toolbar does not simply install a toolbar in your browsers, it also changes your home page, new tab page, and default browser settings by setting a modified Ask.com page. The toolbar itself also promotes the Ask.com search engine. Apart from that it also contains craft-related quick links to third-party websites. What is very important to know about the Mindspark family of toolbars is that you should not trust its third-party services, including the search tool. Unfortunately, through these services the toolbar might be able to present to you third-party ads and links, which might redirect you to unsafe websites. This kind of exposure may result in more infections and other security and privacy-related issues. Therefore, we recommend that you eliminate CrazyForCraft Toolbar as soon as you can.
And you can, very quickly, if you follow our instructions below. First, find the application in the list of installed programs in Control Panel. Then, reset your browsers. That is all there is to it. However, this manual action will not remove all possible threats from your PC. That is why it would be safer to use a reliable antimalware application in order to take care of those threats and safeguard your system from further problems.
CrazyForCraft Toolbar Removal from Windows
Windows XP
Click the Start button and go to Control Panel.
Select Add or Remove Programs.
Click on the toolbar and press Remove.
Windows Vista and Windows 7
Access the Start menu and go to Control Panel.
Select Uninstall a program.
Click on the toolbar and click Uninstall.
Windows 8, Windows 8.1, and Windows 10
Tap Win+I and choose Control Panel.
Click Uninstall a program.
Select the application and click Uninstall.
Reset your browsers
Google Chrome
Press Alt+F and choose Settings.
Scroll down and click Show advanced settings.
At the bottom, press Reset settings.
Press Reset in the pop-up.
Mozilla Firefox
Press Alt+H simultaneously and select Troubleshooting Information.
Click Refresh Firefox. Press Refresh Firefox in the confirmation window.
Click Finish.
Internet Explorer
Press Alt+T and access Internet Options.
Click the Advanced tab.
Press Reset.
Tick the Delete personal settings checkbox and press Reset.
Press Close.
In non-techie terms:
CrazyForCraft Toolbar is a bad toolbar that might cause system security issues by its presence on your computer. Since it is possible that it arrives at your computer together with other malware programs, we advise that you delete CrazyForCraft Toolbar right now along with all the related infections. If you do not want to do that manually, you can always choose an automated solution. That is why we recommend that you download and install SpyHunter, which is a trustworthy antimalware application that can sort out all the issues on your computer and protect it effectively.