Do you know what Crazy Score is?
Crazy Score is the latest advertising-supported program that has been developed on the Injekt engine in order to display third-party ads. Unfortunately, that is everything this program does, so if you remove it right now, we are sure you will not miss it. In fact, security experts always encourage users to get rid of adware as soon as possible, because the presence of such type of software might result in damage to your virtual security. Read this article if you want to learn more about Crazy Score, and why security-minded users choose to delete this adware program the minute it manifests itself on their systems.
Crazy Score is identical to such other Injekt applications as Assist Point, Positive Finds, Strong Signal, and many more. All these programs display pop-ups, banners, in-text ads, interstitial ads, and other commercial content that can significantly disrupt your everyday online activities. As we are sure you do not want to be bothered with all kinds of commercial clutter on your screen, we recommend that you remove this adware application at once. Besides that, security experts inform you that Crazy Score might also be taken advantage of to showcase corrupted links that redirect users straight to malicious sites. In other words, you can never know what kind of third-party site you will be redirected to if you click one of the featured links. We are sure you want your online activities to be as much risk-free as possible, so delete Crazy Score from your system immediately.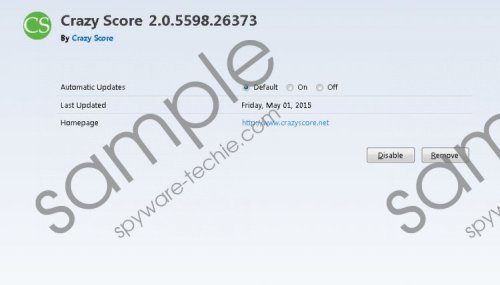 Crazy Score screenshot
Scroll down for full removal instructions
The developers of Crazy Score have set up the official page crazyscore.net where this adware app is promoted. However, if you visit the site, you will notice the lack of information it provides about the product. This is already a sign that Crazy Score might not be as reliable as the people behind this app want you to believe. If you check the End User License and Privacy Policy, you will notice that this application is capable of collecting information about the sites you browse and things you look for on the web. Bear in mind that Crazy Score can be easily misused by undisclosed parties to get information about your bank credentials, or other confidential data. This adware app is not only completely worthless in terms of functionality, but also engages in borderline intrusive activities, so we suggest that you remove this program without any hesitation.
At least Crazy Score is user-friendly enough to be accessible from Control Panel. So, if you want to remove this program, which we recommend, all you need to do is to uninstall it from the program list. Even if that is enough to terminate the incessant stream of the third-party ads, it is important that you complete the manual removal by scanning your system with a professional antispyware tool. This way you will be sure that your system is absolutely adware-free.
Delete Crazy Score from your system
Windows 8 & 8.1
To open the Charm bar, move the mouse to the bottom right corner of the screen.
Choose Setting, then click Control Panel.
Open Programs and Features.
Select the application you want to remove and click Uninstall/Change.
Windows 7 & Vista
To open the Start menu, click the Start button at the bottom left corner of the taskbar.
Choose Control Panel in the menu.
Choose Crazy Score in the program list.
Click Uninstall/Change to initiate the removal.
Windows XP
To open the Start menu, click the Start button at the bottom left corner of the taskbar.
Choose Control Panel in the menu.
Select Crazy Score in the list.
Click Remove to delete the unwanted program from your PC.
In non-techie terms:
Crazy Score is identical to other Inkjet adware apps in a way that it was developed to promote third-party ads. As the featured links served by Crazy Score are too unpredictable, we recommend that you utilize trusted and tested antispyware software to delete this program. Remember, it is important to get rid of this application if you want to minimize the risk of malware infection.