Do you know what CouponTime is?
CouponTime is an adware application that says it can get you "the best deals and best coupons available from all your favorite online shopping sites." To be honest, there are hundreds of similar applications out there, and more than half of them cannot live up to their promises. CouponTime is one of them. Although it says that it will help you save money on your online purchases, this adware application wants to MAKE money by redirecting you to affiliated third-party websites. Your best option in this situation is removing CouponTime from your system immediately.
Some users think that CouponTime is a computer virus because it pops up out of nowhere. That is not exactly true. Adware programs are not malware applications. Most of the time, an adware application is offered as an alternative to a paid subscription – the user gets to use a program for free, and in turn he or she has to go through a daily dose of commercial ads. However, in the case of CouponTime, there is no use keeping this program on your computer. Users have to remember that adware apps are often exploited by malevolent third parties for their own malicious purposes, so you need to be careful about it.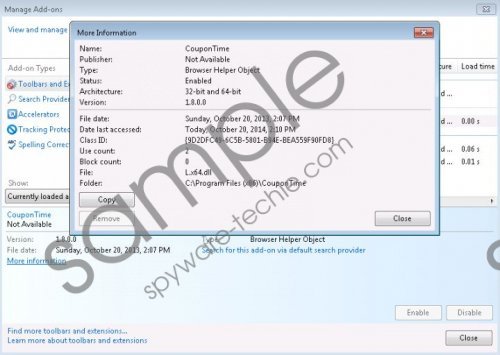 CouponTime screenshot
Scroll down for full removal instructions
That having been said, there is nothing new about CouponTime. The official "homepage" at coupontime.info is useless, as the application usually gets distributed via the InstallRex installer. Depending on the websites you visit and your location, CouponTime may also arrive via the Vittalia or Amonetize installers. CouponTime is identical to WinSpeeder, SaleBuilder, SaveOn, and many other applications from the same group. Thus, whatever its predecessors have been notorious for, CouponTime can do it, too.
The main problem related to CouponTime is the pop-up ads. The advertisements themselves cannot cause any harm. However, if they get embedded with outgoing links to dangerous websites, then this raises some serious security concerns. There is no way to know which ad is safe and which is not. CouponTime does not review all the third-party links because they are simply not covered by its privacy policy. Therefore, whenever a user clicks an outgoing link on CouponTime ads, he does it at his own risk.
Once again, we would like to emphasize that CouponTime is not a malicious computer infection, BUT it is nevertheless a program you should not ignore. Open Control panel and uninstall the application right now. When you remove CouponTime, scan the PC with SpyHunter free scanner. As it has been mentioned above, adware applications get distributed in groups, so it is very likely that there are more programs you will need to delete from the PC.
How to remove CouponTime
Windows 8
Slide the mouse cursor to the bottom right of the screen.
Click Settings on the Charm bar and go to Control panel.
Open Uninstall a program and remove CouponTime.
Windows Vista & Windows 7
Click the Start menu and go to Control panel.
Click Uninstall a program and remove CouponTime.
Windows XP
Open the Start menu and navigate to Control panel.
Select Add or remove programs and uninstall CouponTime.
Remove CouponTime from browser
Google Chrome
Press Alt+F and click Settings.
Select Extensions on the left pane.
Remove CouponTime from the list.
Mozilla Firefox
Press Ctrl+Shift+A and an Add-ons manager tab will open.
Disable and remove CouponTime from Extensions.
Restart the browser.
In non-techie terms:
CouponTime is an application that tracks your web browsing history and then displays annoying pop-ups and other types of ads. It slows down your browser and poses specific security risks you cannot ignore. Remove CouponTime from the PC and then get yourself a reliable antispyware application to protect your system from harm.