Do you know what CoupontasticOffers is?
Do not be fooled by CoupontasticOffers's clever marketing techniques. We want to inform you that this piece of software is considered as adware due to its ad-showing capabilities. Our researchers recommend that you remove this program, because it does not offer any useful functionality to the end-user. Its only objective is to promote third-party advertisements that are not only annoying but potentially dangerous as well. It is alleged that CoupontasticOffers will help you save money by offering you the best deals and discounts, but nothing could be farther from the truth. If you want to know more about this adware, then please continue reading.
Before we get into the specifics of how this program works, let us discuss where it comes from and how it is distributed. CoupontasticOffers belongs to the so-called Multiplug adware family. However, it was built on the JustPlugIt platform, so it is very similar to programs, such as NiceAndFun, Kavapuller Ads, and SaleSale. Note that you ought to get rid of these programs as well, as they are relatively new and can easily get on your computer. The question is how did CoupontasticOffers end up on your computer? Unfortunately, we do not have concrete information regarding this program's distribution methods. We can only assume that it is distributed by being bundled with other software and hosted by various shady freeware websites. So, be sure to check unfamiliar software installers for additional content by opting for advanced installation. Now, let us move on to the most important aspects regarding CoupontasticOffers.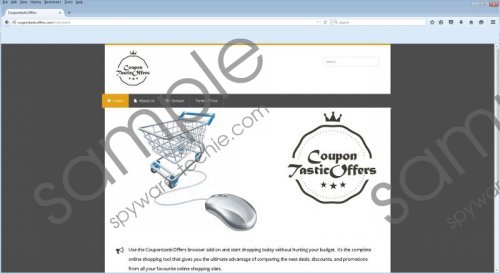 CoupontasticOffers screenshot
Scroll down for full removal instructions
As an adware program, CoupontasticOffers's only purpose is to display commercial advertisements. You can forget about it offering you the best deals and discounts. Since this program is not associated with big online retailers or small-time ones for that matter. It is impossible for it to obtain information regarding prices and discounts. CoupontasticOffers will display random advertisements ignoring actual great deals that may be on offer. This stripped-down adware program is only capable of displaying advertisements in the form of coupons, pop-ups, and banners. While it is apt to redirect to legitimate websites, we have a suspicion that this program might also feature some unreliable links as well.
Our researchers say that like all JustPlugIt-based programs, CoupontasticOffers is able to gather certain information about you. This information is not particularly sensitive and involves things, such as browsing history and search queries, Internet Protocol addresses, as well as technical information of a device. The collected information is used for administrative, promotional and advertising purposes, but it does not significantly affect the advertisements you are subjected to. Therefore, this adware program is not a welcomed shopping assistant but an undesirable adware application, and we invite you to delete it whenever you are ready.
If you have accidentally installed this program and you are thinking about keeping it, because it might offer some good deals, then you are mistaken. Since this program is not associated with legitimate online retailers it is impossible for it automatically promote the most relevant deals. This program does collect information that can be used for improving CoupontasticOffers's ad-displaying capabilities, but the reality is very different. So we invite you to remove this program and try practicing safer browsing in the future.
CoupontasticOffers removal guide
Windows 8/8.1/10
Press Windows Key+R.
Enter Control Panel in the Run command Prompt and Click OK.
Click Uninstall a program.
Find the undesirable software.
Right-click on it and click Uninstall.
Windows 7/Vista
Open the Start menu.
Open Control Panel and select Uninstall a program.
Find the program and right-click on it.
Click Uninstall.
Windows XP
Open the Start menu.
Click Control Panel.
Select Add or Remove Programs.
Find the adware application.
Click Remove.
Remove CoupontasticOffers from your browser
Microsoft Internet Explorer
Press Alt+X.
Click Manage Add-ons.
Click Toolbars and Extensions.
Remove the unwanted extension.
Click Close.
Mozilla Firefox
Press Ctrl+Shift+A.
Click Extensions and Remove the extension.
Restart the browser.
In non-techie terms:
CoupontasticOffers is a recently released adware-type program that our researchers think can come bundled with other software, and therefore, may enter your computer without you even noticing it. The ads it shows cannot be trusted, because this program is not associated with online retailers and it may promote some shady websites. So please remove this program and scan your computer for malware just to be on the safe side.