Do you know what Coupontabsearch.com is?
Coupontabsearch.com is the new invention of Upside Innovations, Inc. (nupside.com) to make some easy money by promoting third parties through manipulated search results. Obviously, the cover story is that you will get a useful tool that can give you access to thousands of coupons; however, the fact is that you should stay away from this search engine because you could be presented with potentially harmful content. As a matter of fact, our researchers have labeled this infection as a browser hijacker. Of course, this is not as dangerous a threat as a ransomware program would be, but you can still end up on malicious websites and getting scammed by cyber criminals simply by clicking on content shown by this hijacker. Therefore, if you want to use a secure computer, we suggest that you remove Coupontabsearch.com as soon as possible. Let us tell you in more detail how this threat can appear on your computer and what you can do against it.
There are indeed several ways how this browser hijacker can infiltrate your operating system. The good news is that this browser extension only seems to work in Google Chrome, but even if you prefer to use other browsers (Internet Explorer, Edge, or Mozilla Firefox) you still may not be safe; and you will soon understand why. But first, we would like to talk about the official channels. This extension has a promotional webpage at lp.mycouponstab.com. This is a very simple page with limited information on this tool. By clicking on the large "Free Download" button you can directly install this extension but whenever you do this, we ask you to be alert and read carefully the little window that pops up.
This window informs you about what kind of rights you give to the tool being installed; and this could be quite revealing regarding the intentions of the application in question. For example, this extension wants to "read and change all your data on the websites you visit." Do you think it is a good idea to give this right to a tool that is not reliable? Can you imagine that cyber criminals may be able to exploit such a right, as in "spying on you"? This is why you should be very careful every time you install an application. Yet another way for you to install this tool is through the Chrome web store: chrome.google.com/webstore/detail/coupons/kelilcfdiaidmlhgjgloekjmohohobnf. But the truth is that we do not believe that these pages are popular enough for the creators to make enough money.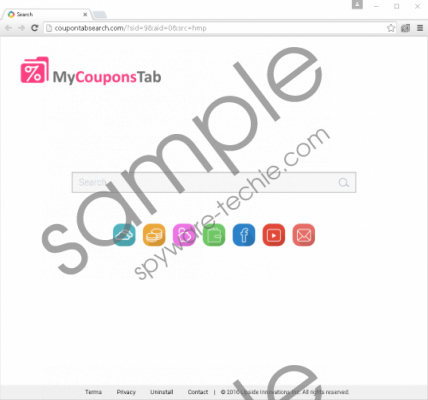 Coupontabsearch.com screenshot
Scroll down for full removal instructions
This is why this browser hijacker is also spread on the net via freeware bundles. If you have installed such a version, chances are your computer has been infected with a number of malware threats, such as fake alerts, browser hijackers, and ad-supported programs. All of these infections can lead to your being scammed by criminals or simply infecting your computer with more threats. And, this is the reason why we advise you to avoid questionable gaming and file-sharing (torrent and freeware) websites if you do not want to drop a malicious package onto your machine. It is enough for you to click on a corrupt third-party ad on these pages and you can easily infect your computer with a number of malware programs. If you do not want to face multiple system security issues, we recommend that you scan your system with a reputable online malware scanner right after you delete Coupontabsearch.com from your Google Chrome browser.
Our researchers have found that this questionable browser extension is almost identical to a newly emerged other tool called Radiotabsearch.com, which also comes from the same creators. The only difference between the two is that this hijacker promotes a few coupon-related websites, including couponunity.com, groupon.com/coupons, and coupons.com/local-offers, which are displayed as thumbnail links below the search box. It is worth mentioning that you can easily bookmark such pages and have them always available from your browser window in all your browsers; actually, by simply using the built-in bookmarks. In other words, this tool is entirely unnecessary and useless. But what is worse is that this browser extension may expose you to unreliable content through its search results.
This browser hijacker redirects all your queries to a legitimate-looking Yahoo results page, but you should know that this page is modified. In fact, this infection can inject third-party ads and links among the normal results that may not always be reliable. Such content may come, for example, from cyber criminals. These ads and links can mislead you and take you to malicious websites and you may find yourself right in the center of an online scam. If you try to keep your computer and your virtual world safe, you should remove Coupontabsearch.com right now.
This is not at all that complicated. You simply locate the extension named "Coupons" and remove it from the settings of your browser. If you are unfamiliar with this process, please use our guide below. It is essential that you become a more cautious web surfer if you want to keep your system clean of malware threats. But, if you want real peace of mind, we suggest that you use a trustworthy anti-malware tool, such as SpyHunter. For best results, you should keep all your programs, including your OS, browser, and security tool, and all your drivers (Flash and Java) regularly updated.
Remove Coupontabsearch.com from your browser
Google Chrome
Tap Alt+F and open More Tools.
Choose Extensions.
Find the "Coupons" extension and click on the trash can icon.
Press Remove.
In non-techie terms:
Coupontabsearch.com offers you quick links to websites associated with coupons, but, indeed, it is a totally useless addition to your Google Chrome browser and, on top of that, it can also put your virtual security at risk. This browser extension has been categorized as a browser hijacker because it can change your new tab and default search engine settings in your Google Chrome. The biggest threat of exposure to unreliable content comes from the search results this tool can display to you. Although it uses a redirection to Yahoo to show you search results, these can contain unreliable third-party ads and links. If you do not want more infections to crawl onto your system or be scammed and lose money, you should remove Coupontabsearch.com ASAP. For best results, apply a reliable malware remover that will also safeguard your system from all known malicious attacks.