Do you know what Coupon Locker is?
Coupon Locker is a browser extension; however, not as beneficial as you first may believe it to be. Computer users download this application hoping that it will serve them beneficially only to find out that it is only capable of presenting worthless deals and highly irritating online ads. If you choose to delete Coupon Locker from the operating system, it is quite possible that you will evade a number of different problems. As researchers have revealed, the different offers, deals and surveys represented with the help of the extension could lead to undesirable software installation and even virtual scams. Continue reading to find out more.
When you download Coupon Locker from coupon-locker.com, it is most likely that the publisher of the extension will be represented as Innovative Apps. However, you may find different names linked to the application, including Engaging Apps or 215 Apps. What is more, authentic security software may detect this program as Crossrider, simply because it has been created on the Crossrider platform. Savings Wave, Deal Boat, Deal Spy, and a number of similar advertisement supported programs (adware) are linked to these names as well and, as research shows, these programs are affiliated to undisclosed third parties. Coupon Locker runs with the financial support from third parties as well. Unfortunately, the intentions of these parties are unknown. It is possible that they will use the application as a trampoline to record statistical information about you and display random ads which are meant to generate profit.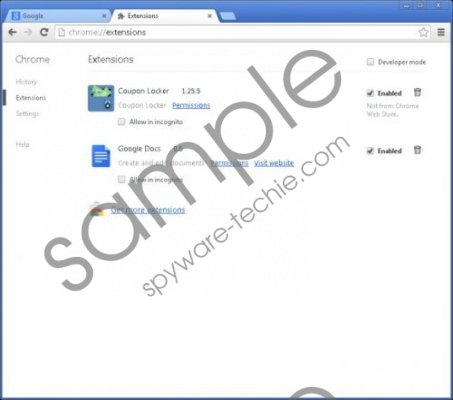 Coupon Locker screenshot
Scroll down for full removal instructions
Most computer users are excited by the idea of manual Coupon Locker removal? Is this your preference as well? Even though you may be tempted to choose this path, we urge you to think carefully about your abilities and the security of your operating system. If you have downloaded the suspicious application bundled with other software, it is possible that you will need to delete Coupon Locker alongside other disruptive applications. If you are still interested in manual removal, follow the step-by-step guides below and use a malware scanner to inspect the operating system.
Delete Coupon Locker
Delete from Windows 8:
Tap the Windows key to access the Metro UI screen and right-click.
Select All apps, then open the Control Panel and finally go to Uninstall a program.
Right-click the application you want to remove and select Uninstall.
Delete from Windows Vista/Windows 7:
Open the Start menu from the Task Bar and then open the Control Panel.
Now click Uninstall a program to find the list of installed applications.
Right-click the application you want to remove from the PC and select Uninstall.
Delete from Windows XP:
Move to the left of the Task Bar and click Start to open a pop-up menu.
Open the Control Panel and double-click Add or Remove Programs.
Click the program you wish to get rid of and select Remove.
In non-techie terms:
You should remove Coupon Locker without any hesitations if the program is running on your personal computer. Use the instructions above or, better yet, install automatic malware removal software which could reliably guard your operating system in the future. If you need to you can use the installation instructions right below.