Do you know what Coupon Champion is?
Coupon Champion is an adware program which you should remove from the computer if you want to browse the Internet without being disturbed by annoying notifications about coupons available on shopping websites. Coupon Champion is available at coupon-champion.com and may also be distributed by software installers. One of the source of this application is malavida.com, which is a software distributor where computer users can find software programs for Macs, Windows operating systems, Android, iPhone, etc.
Coupon Champion display third parties' advertisements but do not endorse third parties. Every websites has its privacy policy and terms of use, which are not controlled by Coupon Champion. You interact with web banners, coupons, and other types of advertisements at your own risk. There are various scam websites that seek to deceive computer users into download free software programs or providing unreliable companies with their personal information. If you want to avoid malicious programs and data loss, you should ignore various webs banners and pop-up notifications and remove Coupon Champion from the computer.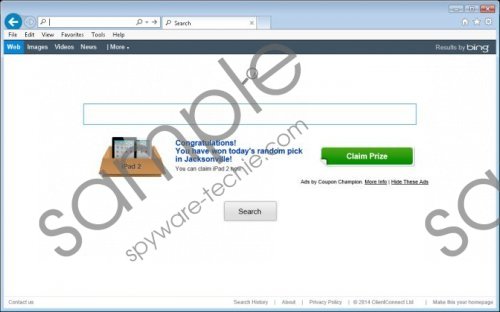 Coupon Champion screenshot
Scroll down for full removal instructions
Coupon Champion advertisements usually have a label which reads "Ads by Coupon Champion". You can find this phrase on web banners and pop-up advertisements.
You may also encounter Coupon Champion web banners when Internet Explorer, Google Chrome or some other browser is altered by Conduit. Sometimes it is possible to disable advertisements; but bear in mind that you may still be monitored.
Coupon Champion may record your clicks, search terms, browsing history and some other browsing and Internet browsers related information. In some cases, the adware program may record personally identifiable information even though it is not intended. Nevertheless, the developers of the adware program may use information about you for marketing and advertising, but you can prevent this from happening. Remove Coupon Champion as soon as you find that it is present on your PC and make sure that the system is properly protected against malware.
If you have Coupon Champion on your browsers, you should pay close attention to your Google search results in order not to click on a sponsored link displayed by the adware program. Coupon Champion displays sponsored links which are called Enhanced Results, and also provides you with links to Wikipedia, YouTube and other websites. Some more ads, or sponsored links, are also displayed on the left side of the browser window. Bear in mind that Coupon Champion does not accept responsibility for the content of third parties websites, and, if you want to browse safely, you should remove Coupon Champion and shield the system from various computer threats.
In order to remove Coupon Champion, we recommend using SpyHunter. This spyware and malware removal tool will remove Coupon Champion and safeguard the system against various types of malicious applications. If you want to prevent data loss and browse the Internet safely, stop dithering and implement the recommended application.
In case you are eager to remove Coupon Champion manually, follow our step-by-step removal guide and scan the system afterwards.
How to remove Coupon Champion
Windows XP
Click Start.
Click Control Panel.
Select Add or Remove Programs.
Uninstall the adware program.
Windows Vista and Windows 7
Click Start.
Select Control Panel.
Click Uninstall a program.
Remove the unwanted adware program.
Windows 8
Move the mouse to the lower-left corner of the screen.
Right-click.
Select Control Panel.
Click Uninstall a program.
Remove Coupon Champion (published by Smart Apps).
In non-techie terms:
Coupon Champion is an adware program that generates third parties' advertisements, the majority of which may be unrelated to your search terms and browsing interests. In order to remove this application, you should either follow the above-given instructions and scan the PC afterwards or implement a reputable spyware removal tool straight away to have Coupon Champion removed for you automatically.