Do you know what Coupon Champ is?
Coupon Champ is ad-supported software that declares that it will save your money while you shop online. It states that it will do so by displaying useful adverts, discount coupons, comparison deals, etc. These statements can often mislead a vivid online shopper into acquiring this application. The truth is that you will not benefit from this application in any possible way. The only thing that you will experience is annoyance and frustration as long as Coupon Champ is running on your system.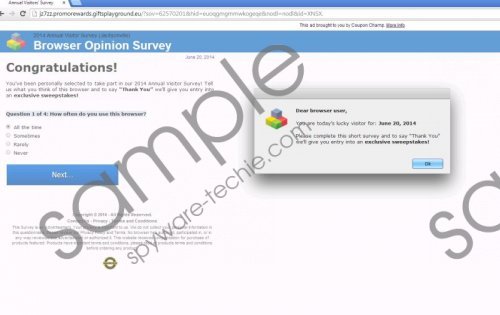 Coupon Champ screenshot
Scroll down for full removal instructions
Furthermore, you should know that the removal of Coupon Champ is a bothersome process as well. If, unfortunately, this malicious application is already running on your system please read the article as we provide a comprehensive removal guide and further information about Coupon Champ.
Coupon Champ provides a direct download link within their official website coupon-champ.com. But suspiciously the download link does not work; as you try to click on the link it displays a message saying that the add-on is under maintenance. Although the download link is not working there are quite a few records showing that users are getting infected with this malicious application; therefore, it is safe to assume Coupon Champ is possibly distributed via bundled software. It is important to avoid installation of any unknown applications. You can do so by reading everything that is on the setup screen because sometimes you might be able to disable any additional installation. Check the official websites for legitimate software first. A licensed antimalware tool often can detect dubious installers; in a case like that, a warning message will be displayed.
Coupon Champ was developed by a dubious company known as Smart Apps that has also crafted such adware applications as Sharp-savings, Savings Season, Dealfox, Savings Hen, etc. All of these applications were examined by our highly skilled team and all of them portrayed similar features. Commercial adverts, pop-ups, coupons are the key feature of any adware application. And it is quite oblivious that these activities disrupt your web browsing experience until you completely remove Coupon Champ or any other adware application.
What is different from other applications of this kind is that Coupon Champ installs a potentially unwanted application along. That program is called BenchUpdater and acts like adware helper. Our team found out that this particular application is the reason Windows hosts file is edited. Hosts file is inserted with additional IP address that is likely an update server for Coupon Champ. Furthermore, Coupon Champ is capable of connecting to the internet without permission. Combining these two features, we can assume that this particular adware could restore itself if it was not removed properly.
We provide a detailed removal guide below. If you follow these steps carefully, you should not have any problems. Keep in mind that manual removal might not always clean up your operating system entirely. For instance, if the hosts file is not cleaned properly, there is a chance that Coupon Champ could restore itself. That is why we strongly recommend using a professional antimalware tool in order to clean your system fully.
How to remove Coupon Champ from your PC
Remove from Windows 8
Move the mouse cursor to the bottom right corner of the screen.
In the Charm bar select Settings.
Now select Control Panel.
Click Uninstall a program.
Find the adware application and uninstall it.
Remove from Windows 7 and Windows Vista
Tap the Windows key.
Select Control panel.
Select Uninstall a program.
Right-click the adware application and select Uninstall.
Remove from Windows XP
Click the Start button and select Control Panel.
Select Add or Remove Programs.
Select the unwanted application and remove it.
How to delete extensions form your browsers
Delete from Google Chrome
Open your browser and tap Alt+F simultaneously.
Select Settings.
Select Extensions.
Select and delete Coupon Champ extension.
Delete from Mozilla Firefox
Open your browser and tap Alt+T simultaneously.
Select Add-ons.
Select Extensions.
Select and delete Coupon Champ extension.
Delete from Internet Explorer
Open your browser and tap Alt+T simultaneously.
Select Manage-Add-ons.
Select Toolbars and Extensions.
Remove Coupon Champ from the list.
In non-techie terms:
Applications like Coupon Champ could be a threat to your virtual security. In order to avoid them and maintain your PC clean and secure we advise you to install professional antimalware software. If you are interested in our suggestions, follow the instructions below.