Do you know what CoupExtension is?
CoupExtension is a potentially unwanted application classified as adware. It means that it collects information on what websites you visit and then makes use of it to display commercial advertisements. Such practice is not illegal, but it does raise certain security concerns one should not ignore. Therefore, it is necessary to remove CoupExtension from the system immediately. It is very likely that you have more than just one unwanted application on your computer, so do not hesitate to invest in a reliable antispyware tool that will help you detect all the other unwanted apps.
Luckily, we know exactly what to expect from CoupExtension because this adware application comes from a big adware group, and all of them exhibit similar infection symptoms. For starters, there is no direct download link, and you cannot download CoupExtension at the official website, because couponextension.info is dead. This leaves us with only one option – bundled downloads. Chances are that third party software installer does not inform about additional programs that are about to be installed on your PC. CoupExtension is known to travel with DomalQ installers that usually promote fake Flash or Java updates and video players.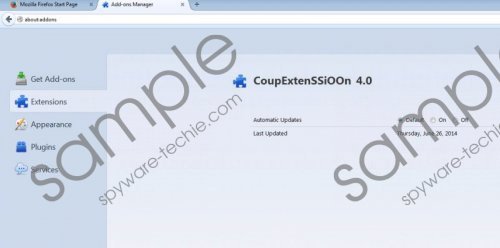 CoupExtension screenshot
Scroll down for full removal instructions
Thus, if you see an ad that urges you to download a codec or a plug-in update, DO NOT click it. You should download software updates from official websites only. Clicking on unfamiliar links online would only lead you to installing CoupExtension and similar applications on your computer. During the installation, this adware program generates its name at random. It is done by all the other applications in this group, including DealEXpress, AllTubeNoAds Virus, DownSave, and many others. Thus, whether it would be COuPExttenisoion, CoupExteNSion or COupExtensioNN, you would still be dealing with the same adware application.
CoupExtension also adds extensions to Mozilla Firefox, Google Chrome and Internet Explorer web browsers. With everything set, the program starts collecting data on your web browsing habits. Once enough data is collected, CoupExtension starts displaying custom advertisements on commercial websites. It might be banner ads or pop-ups, so you need to be careful not to click on any of them. You can never know what website you could be redirected to.
Although CoupExtension does not try to infect you with malware, you should not rule out the possibility that this program could be used by cybercriminals to promote their corrupted content. You certainly cannot allow that, so the sooner you uninstall CoupExtension, the better. Take note that you will most probably have to remove the extension from Google Chrome and Mozilla Firefox browsers manually.
Once you have CoupExtension removed, take your time and scan the PC with a licensed antispyware tool because you have to make sure that your computer is safe.
How to remove CoupExtension
Windows 8
Drag your mouse cursor to the bottom right corner of your screen.
Click Settings on Charm bar and go to Control Panel.
Select Uninstall a program and remove CoupExtension.
Windows Vista & Windows 7
Open Start menu and go to Control Panel.
Click Uninstall a program and remove CoupExtension.
Windows XP
Click Start menu button and navigate to Control panel.
Select Add or remove programs and uninstall CoupExtension.
Remove CoupExtension from your browser
Google Chrome
Press Alt+F and go to Tools.
Click Extensions and remove CoupExtension from the list.
Mozilla Firefox
Press Alt+F and click Add-ons.
Disable and remove CoupExtension from Extensions.
Restart browser.
You can always leave us a comment if you have further questions about CoupExtension or computer security. We would also like to point out that we provide secondary removal instructions below this description.
In non-techie terms:
CoupExtension is an adware program that needs to be removed from your PC right away. It could be related to various computer security issues, so you should not tolerate this application. Do everything you can to ensure your system's safe and secure.