Do you know what CoupApp is?
CoupApp is an adware application that always arrives bundled with freeware. It may have its own homepage at coupapp.info, but it is very unlikely that users would come across this website and install CoupApp onto their computers willingly. Truth to be told, CoupApp is not a malicious computer infection, but once the extension is added to your browser, it turns web browsing into a tedious task by displaying a lot of commercial ads. In order to remove CoupApp you simply need to uninstall it via Control Panel. However, you may also need to terminate a number of other potentially unwanted applications as well.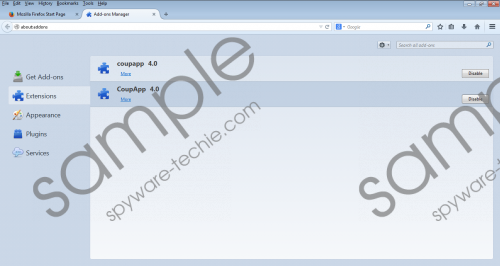 CoupApp screenshot
Scroll down for full removal instructions
There are actually a lot of adware applications like CoupApp out there. All of these apps promise to help you save money on your purchases online. If we take a look at the application's website, it says that CoupApp "is a free browser add-on that specializes in searching through the Web for trusted coupons and discounts and brings it all to you in a simple, user-friendly interface". It actually would be great if CoupApp was to display commercial offers only. The problem, though, is that this application generates ads and pop-ups wherever you go. There might be random pop-ups on your homepage already.
What is more, as it has been mentioned above, rather than being downloaded from the official website, CoupApp most often comes with other freeware from various third party websites. For example, it is known to be bundled with EZDownloader, various adware applications and even amaizingsearches.info browser hijacker. In other words, seeing CoupApp pop-ups appear on your browser's window is the first sign that something might be fundamentally wrong within your system. Hence, removing CoupApp alone would not exactly solve the problem you are facing.
It is easy to remove CoupApp from the computer, and some users do not even consider random pop-ups and coupon offers a security threat. However, no security-minded user would want something like CoupApp on his/her computer, because such adware applications cannot guarantee that the content embedded in their ads is completely safe. CoupApp does not review whatever links and offers are embedded into the pop-ups, so if you click one you might get redirected to suspicious commercial website or some page that expects you help generate more traffic.
All in all, CoupApp is an annoying application that needs to be removed from the system immediately. Due to the fact that it is usually bundled with freeware, you may need to uninstall other unwanted applications as well. To determine which applications must be removed from your computer, run a full system scan with SpyHunter free scanner. Also, do consider investing in a licensed antimalware tool to safeguard your PC from potential threats.
How to remove CoupApp
Windows 8
Move mouse cursor to the bottom right of the screen.
Click Settings on Charm bar and go to Control Panel.
Select Uninstall a program and remove CoupApp.
Windows Vista & Windows 7
Open Start menu and click Control Panel.
Select Uninstall a program and remove CoupApp.
Windows XP
Open Start menu and navigate to Control Panel.
Go to Add or remove programs and uninstall CoupApp.
In non-techie terms:
CoupApp is a potentially dangerous application that displays a lot of pop-ups ads when you browse the Internet. This application is associated with a number of security issues, so the sooner you remove CoupApp from your computer, the better.