Do you know what CoronaBorealis is?
Not only is CoronaBorealis a small constellation in the Northern Celestial Hemisphere, but it is also the name of a worthless piece of software that happens to be an adware application according to our researchers. The appearance of this ad-supported program is definitely not good news for you since it happens to spread on the web in freeware bundles that may contain other malicious software installers as well. In other words, you may have a whole bunch of malware threats on your computer that are endangering your operating system right now. Therefore, if you want to tackle this invasion, it will not be enough to remove CoronaBorealis alone; you will have to detect and eliminate all other threats as well. Please read our full report on this adware to understand the potential and related risks you may be facing.
According to our researchers who tested CoronaBorealis in our internal lab, this adware application is practically the same as Capricornus and Canopus. It seems that the developers are hooked on constellations or astronomy. However, these applications have nothing to do with any scientific endeavor other than the science of "making easy money by promoting affiliated third-parties and tricking you into clicking." As a matter of fact, this adware is not different from any other advertising-supported applications. Its main goal is obviously to generate web traffic to third-party websites and thus make money based on the pay-per-click system; as simple as that. But, unfortunately, these third parties are not reviewed by the developer; therefore, anyone can pose as third party even criminals.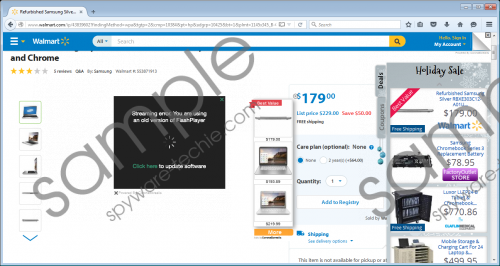 CoronaBorealis screenshot
Scroll down for full removal instructions
CoronaBorealis may collect information about you that can be shared with these third parties. This means that data about you can be used – or rather misused – to send targeted customized advertisements to your screen. This coin has two sides though as everything else in life: a bad and a good one. Obviously, there can be beneficial ads that really target you with best prices and deals about a product that you really care about or have been looking for to buy lately. However, criminals can use this same information and advertisement but embed a corrupt link that will take you to their malicious websites. By looking at the ad you will never be able to tell where you will end up by clicking on it. It may seem totally legitimate. Yet, you might find yourself on a compromised website. Therefore, we advise you to delete CoronaBorealis as soon as possible.
Our researchers say that this adware uses the same engine as Jabuticaba, Daugava, and Groover. This application can display very annoying and rather misleading third-party ads. It does not install browser extensions, but changes the dnsapi.dll system file instead. These ads may, for example, make you believe that if you click on the "Skip ad" button, you will get rid of the commercial, but you might be redirected to a malicious website, or even download some malware infections in the background. It is about 50% chance that the ad will actually close, but it may also open another one. If you do not want to cause more security issues, you should remove CoronaBorealis from your computer.
It is very important to mention a few things with regard to prevention before we tell you about the solution against this adware program. According to our researchers, this application travels mostly bundled with other infections. You should know that these malicious installers are usually promoted on questionable freeware websites and torrent sites. Therefore, if you avoid these sites, you have a good chance of not infecting your computer with malware. But we would also recommend that you refrain from clicking on third-party ads no matter how legitimate page you are viewing. The reason is simple. If your computer is infected with adware, it is possible that this infection hijacks even legitimate advertisements and redirects you to malicious websites when you click on them. Keeping your browsers and all other software up-to-date can also help safeguard your operating system against cyber criminals, who like to take advantage of security bugs in applications, for example, to access information on your computer.
Removing CoronaBorealis will take more than just a click on a button unfortunately, but it is still not brain surgery. You can use our guide below to make sure you get it all right. In order to be perfectly certain that you manage to clean this infection from your system, we have included DNS settings reset as well. It seems that this particular adware does not alter your DNS settings and only modifies the dnsapi.dll file, but other clones and variations may do so. If you want to make sure that your system is all safe from malware threats, we suggest that you use a professional malware removal tool to protect your PC.
Remove CoronaBorealis from Windows
Windows 8/Windows 8.1/Windows 10
Tap Win+I and pick Control Panel.
Select Uninstall a program.
Click on the application and click Uninstall.
Windows Vista/Windows 7
Access the Start menu and open Control Panel.
Click Uninstall a program.
Click on the application and click Uninstall.
Windows XP
Press Start and access Control Panel.
Select Add or Remove Programs.
Click on the application and click Remove.
Restore dnsapi.dll
Press Win+R and type in cmd to open the command window. Hit OK.
Type in "sfc /scanfile=C:\Windows\system32\dnsapi.dll" and hit the Enter key.
If you have a 64-bit system, enter "sfc /scanfile=C:\Windows\syswow64\dnsapi.dll" and hit the Enter key.
Restore the DNS settings
Windows 8/Windows 8.1/Windows 10
Tap Win+I and choose Control Panel.
Select Network and Internet and access Network and Sharing Center.
Click on the active connection.
Click Properties in the pop-up.
Choose Internet Protocol Version 4 (TCP/IPv4) in the item list box.
Press Properties.
Select the "Obtain DNS server address automatically" option and press OK.
Click OK.
Windows Vista/Windows 7
Tap Win+R and enter Control Panel. Click OK.
Choose Network and Internet.
Access Network and Sharing Center.
Click on your connection type.
Press Properties and select Internet Protocol Version 4 (TCP/IPv4).
Press Properties and select "Obtain DNS Server address automatically".
Click OK and click OK again.
Windows XP
Click the Start button and select Control Panel.
Open Network Connections.
Right-click on the active connection and select Properties.
Click Internet Protocol on the Local Area Connection Properties panel.
Press Properties and choose "Obtain DNS server address automatically".
Click OK.
In non-techie terms:
CoronaBorealis is a potentially dangerous ad-supported program that may display harmful advertisements while you are browsing the net. These ads can be very annoying and distracting, but they may also redirect you to unreliable websites. What's more, this adware may arrive with a bunch of other infections. Therefore, we recommend that you do not only remove CoronaBorealis, but take care of all other related threats as well. This is the only way to have peace of mind and a clean operating system.