Do you know what CornerSunshine is?
CornerSunshine is a PUP, or potentially unwanted program, that appears to perform as a weather notification tool. At this moment, the official download page, cornersunshine.com, does not work, but the distribution of this program is still active. This is because it is spread by third-party installers. Although you might not realize this, other unreliable or even malicious infections might be present on your PC if you have interacted with a third-party installer. Have you? In that case, why don't you install a trusted malware scanner to quickly examine your operating system? In fact, this is the first thing you should do whenever you discover suspicious or unwanted programs because they might hide much more malicious threats that also require removal. Hopefully, you will find that you only need to delete CornerSunshine from your operating system.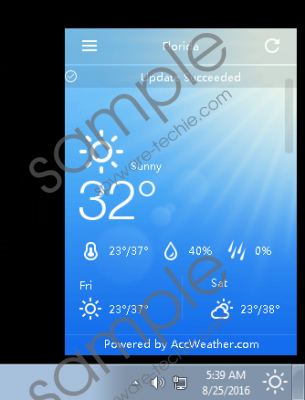 CornerSunshine screenshot
Scroll down for full removal instructions
According to our research, CornerSunshine might have been created by the same people who are responsible for SOSO DESK, Picexa, Uncheckit, and other potentially unwanted programs. In that case, the chances of attracting third-party software are very high. It was found that programs from this family are usually bundled together with ELEX hijackers, such as yessearches.com. Obviously, if this software exists on your PC, you need to research it separately to figure out if you need to delete it also. Just like the PUP itself, these programs might seem harmless, but you need to be careful and vigilant. When it comes to the CornerSunshine itself, we advise being cautious about it for several reasons. First of all, according to the Privacy Policy, this program can collect personal information. Although the official download page does not work, this statement at cornersunshine.com/poclices.php is still active.
Although it is mentioned that personal information is collected only in those cases when you "voluntary opt to use" the services, in reality, you agree to this as soon as you download and install this program. In general, it is possible that CornerSunshine will collect personal information even when you do not realize it. What is more, this information could be used to flood you with product surveys and the so-called "promotional mailings" representing the products of unknown third parties. What if they are malicious, and the PUP is exploited to advertise scams and useless services? This is what you need to consider when you think about whether or not this program deserves removal. Another thing our research team has found is that while Corner SunShine, Inc. is introduced as the developer, the files of the PUP are signed by Jianfei Zhu. We could not find a connection between these companies, which might suggest that they are fictitious. Obviously, that would not make the PUP reliable.
Have you found that you can uninstall CornerSunshine? Well, not so fast. If you uninstall this program, quite a few components will be left behind. In fact, we advise removing this PUP from the root as shown in the instructions below. Although it might seem as if our proposed method is the more complicated and lengthy one, in reality, it is more efficient. After you get rid of the PUP, we recommend scanning the computer again to check if no leftovers are detected. If additional threats have invaded your operating system, we advise employing anti-malware software to delete all unreliable programs at once, including the PUP itself. Please do not hesitate to ask us questions about the removal process. You can contact us using the comments section below.
Delete CornerSunshine
Tap Win+R keys simultaneously to launch RUN.
Type regedit.exe to access the Registry Editor.
Delete the Corner Sunshine key in these paths:

HKEY_CURRENT_USER\Software\
HKEY_LOCAL_MACHINE\SOFTWARE\Wow6432Node\
HKEY_LOCAL_MACHINE\SOFTWARE\Clients\
HKEY_LOCAL_MACHINE\SOFTWARE\Wow6432Node\Clients\
HKEY_LOCAL_MACHINE\SOFTWARE\Wow6432Node\Microsoft\Windows\CurrentVersion\Uninstall\

Delete the CornerSunshineSvc key in these paths:

HKEY_LOCAL_MACHINE\SYSTEM\ControlSet001\services\
HKEY_LOCAL_MACHINE\SYSTEM\ControlSet002\services\
HKEY_LOCAL_MACHINE\SYSTEM\CurrentControlSet\services\

Close the Registry Editor and then launch Explorer (tap Win+E keys).
Enter %PROGRAMFILES% (or %PROGRAMFILES(x86)%, depending on the system) into the address bar.
Right-click and Delete these folders: Corner Sunshine and app_00000000.
In non-techie terms:
Although you might find CornerSunshine useful, this program is not reliable, and it is best to eliminate it as soon as possible. According to the latest research, this PUP can collect personal information about you and use it to approach you with surveys and product advertisements. One more thing you need to remember is that this program can be spread via third-party installers packaged with other unreliable programs. Please scan your PC as soon as you discover the PUP to make sure that more malicious and unwanted programs are not active. If they are, eliminate them immediately. If you are unable to get rid of all threats manually, do not hesitate to invest in a security tool that will eliminate all threats and, most important, keep your operating system protected in the future.