Do you know what Coolsearch.info is?
Our malware researchers think that Coolsearch.info is not cool at all because its owners have opted to disseminate it through malicious software installers that hide its presence and inject it into your browser without your knowledge or approval. Without a doubt, it is one unreliable search engine because of the way it is distributed. However, we also want to point out that that this search engine was configured to show modified, ad-supported search results that generate advertising revenue. The take issue with the promoted links because they come from unknown sources and can pose a threat to your computer's security. Therefore, we you ought to remove it from your browser as soon as you get the chance.
Let us jump into the facts. Our malware analysts say that it was created by Russia-based developers that are also responsible for creating Searchisweb.com, Searchopa.com, and several other hijackers. All of them look identical and follow Google's color scheme to make it look like they are Google.com. And, indeed, they use Google Custom Search to present you with search results. However, Searchisweb.com can modify the search results to include promotional links and advertisements of unreliable legitimacy. The possibility of seeing malicious links is rather small, but real nonetheless. Therefore, we urge not to take chances because there is no telling what kind of content Coolsearch.info will subject you to.
Another reason for not using this search engine is the fact that it does not have legal documentation such as the privacy policy and terms of service. However, we would like to point out that it can collect at least some anonymous information about you regardless of the fact that it does not state it anywhere. Researchers say that, like almost all browser hijackers, Coolsearch.info should be able to automatically gather some anonymous information about you. Researchers say that it should be able to collect information such as your browsing history browser type, Internet Protocol (IP) address, operating system type, search queries, among other types of information that they can get their hands on. The developers use this information to personalize and customize the ad campaign that will generate them money. Advertising is the underlining feature of this browser hijacker, so if you do not want to see modified search results full of ads, we recommend that you remove Coolsearch.info.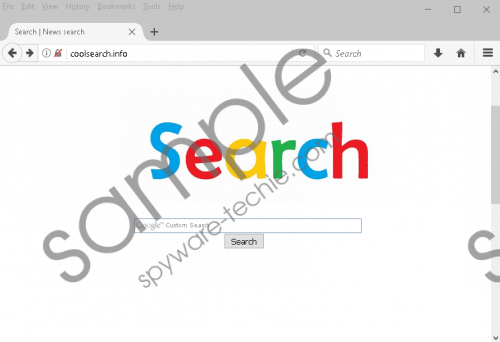 Coolsearch.info screenshot
Scroll down for full removal instructions
However, before we move on to the removal guide, we want to discuss how this browser hijacker is being distributed. Our malware researchers have received information suggesting that Coolsearch.info is being disseminated using malicious bundled installers hosted on shady freeware websites. Research has indicated that it is currently popular in India and Pakistan and is probably featured on websites most popular in these two countries. Now, we want to point out that the installers might not allow you to deselect the installation of this browser and install it secretly.
So there is a good chance that this browser hijacker got onto your computer without your knowledge or approval. If you want to remove it, then we invite you to use the instructions featured below. Getting rid of it is highly recommended because it can subject you to questionable promotional links that can compromise your computer's security and your privacy.
Change the homepage address
Microsoft Internet Explorer
Press Alt+T and click Internet Options.
Change the homepage address.
Click OK.
Mozilla Firefox
Press Alt+T and click Options.
Change the homepage address.
Close the options tab.
Google Chrome
Press Alt+F.
Find the On Startup list and select Set pages.
Change the homepage address and click OK.
In non-techie terms:
Coolsearch.info is highly malicious search engine that can replace your browser's homepage address without your knowledge or approval. Its search results are prone to feature promotional links and ads of unknown origin. Researchers have also concluded that this hijacker can keep tabs on you to personalize the ads. However, it will not provide you with a reliable service due to the fact that its ads can be malicious.