Do you know what Cooking up Coupons is?
Our researchers say that Cooking up Coupons is an adware application that belongs to the SuperWeb family. Judging from this program's homepage cookingupcoupons.com, the application is supposed to help you find various recipes online. However, you should remove Cooking up Coupons from your system if you want to avoid potential infections. This adware program has not been created to distribute malicious applications on purpose, but anything could happen especially as Cooking up Coupons is highly vulnerable to malicious exploitation. Hence, whenever you are about to use an adware application, you should consider all the pros and cons.
When it comes to Cooking up Coupons, we can surely say that there is nothing reliable about it because we know it belongs to the SuperWeb family. As such, Cooking up Coupons is exactly the same as Back to Back, Ace Race, ZoneTrek, and other applications from the same group. It means that this adware program behaves just like its predecessors. In other words, Cooking up Coupons gets installed on your browser as an extension, and it is compatible with Google Chrome, Mozilla Firefox, and Internet Explorer. However, the newer Google Chrome versions might not support this application due to potential security threats.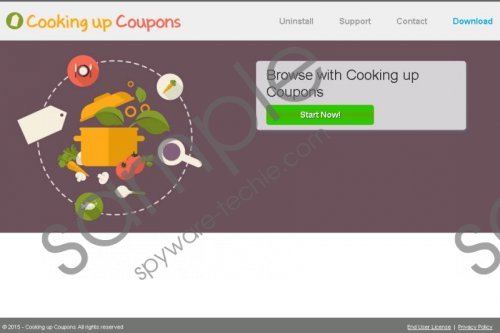 Cooking up Coupons screenshot
Scroll down for full removal instructions
If you think that you can simply ignore the ads displayed by Cooking up Coupons, you should better think again. It is true that the ads themselves are not dangerous enough to infect you with malware, but you have to take all the unfavorable facts into consideration. For example, since Cooking up Coupons cannot be distributed directly, this programs travels in software packages. Consequently, it means that the application was installed on your system bundled with some additional programs you neither need nor want. In fact, you probably did not even notice how this adware app entered your system because you were too focused on installing some other program.
Therefore, there might be more than just one unwanted program on your computer, and if you just let it be, it might eventually lead to undesirable consequences. For example, Cooking up Coupons alone can collect a lot of information on your web browsing habits, and this information might be inadvertently leaked to unreliable third-parties. What's more, the adware application cannot guarantee that all the links embedded in the ads are 100% safe. The truth is that Cooking up Coupons does not review what kind of content gets embedded into its ads, and consequently, this raises a number of security concerns.
Save yourself the trouble of dealing with computer infections by removing Cooking up Coupons right now. It is not complicated because you can simply delete this program through Control Panel. Nevertheless, when you are done with the manual removal, you should check for other potential threats by scanning your PC with the SpyHunter free scanner.
If any potential threats are detected, remove them immediately using an automated malware removal tool. For any further questions or inquiries you can always leave us a comment below this description. Do not forget to take care of your computer's system, and do not open just any website at random: You might be just one click away from a dangerous infection.
How to Delete Cooking up Coupons
Windows 8 & Windows 8.1
Slide the mouse cursor to the bottom right of the screen.
When the Charm bar appears, click Settings and go to Control Panel.
Open Uninstall a program and remove Cooking up Coupons.
Windows Vista & Windows 7
Open the Start menu and click Control Panel.
Go to Uninstall a program and remove Cooking up Coupons.
Windows XP
Click the Start button and navigate to Control Panel.
Select Add or remove programs and uninstall Cooking up Coupons.
In non-techie terms:
Cooking up Coupons is an application that slows down your web browser. It displays a lot of commercial pop-ups. Some of those pop-ups might have links that lead to dangerous sites. You need to remove Cooking up Coupons from your computer because this program could unintentionally expose you to malicious third-party content. For an alternative software removal method, please check out the secondary set of instructions below.