Do you know what ConvertFilesforFree is?
If you are often watching videos online, you probably want to have some of them on your mobile device as well. However, mobile devices usually can play only specific file formats, so to play some video files, you need to convert them. ConvertFilesforFree is one of the freeware programs out there that offer you to convert your videos for free. However, this program's legitimacy is highly doubtful, and we think that you should remove ConvertFilesforFree from your computer before it manages to cause any harm.
One of the reasons why our lab team dismisses ConvertFilesforFree as an entirely useless application is that according to converfilesforfree.com the conversion can be achieved on their website. There is actually no need to download the program. Nevertheless, even so you are strongly discouraged against converting your files at converfilesforfree.com because this website is clearly related to adware. You can never know what might happen if you upload your file on a website that shares third-party content.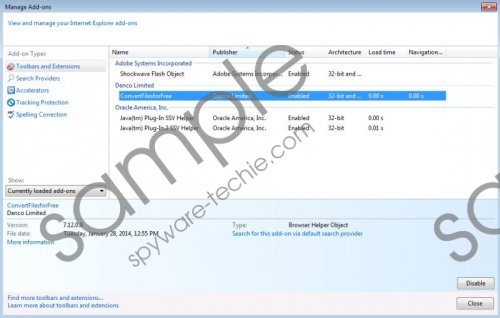 ConvertFilesforFree screenshot
Scroll down for full removal instructions
What is more, despite the fact that ConvertFilesforFree looks like a potentially unwanted program, we are forced to label it as adware. This program can easily display commercial pop-ups, but downloading and installing it onto your computer does not provide you with any tool that would convert your videos.
Apart from the official website, there are other ConvertFilesforFree distributors as well. This program is heavily bundled with DomalQ installers. These installers are often embedded into fake Java, Flash update pop-ups and various fake notifications that offer you to upgrade your media player. It means that users download and install ConvertFilesforFree onto their computers themselves. Therefore, you have to be very careful in order to avoid such programs.
When ConvertFilesforFree enters your computer, it adds extensions to Mozilla Firefox and Internet Explorer web browsers. The extension does not seem to have any particular function. What is more, ConvertFilesforFree does not bring any app that would actually help you convert your video files. The entire thing is a hoax, and you should not fall for it.
If ConvertFilesforFree stays on your computer for a long period, it might eventually expose you to corrupted third-party content. It may not be the program's intention to infect your computer with malware or leak your data to cybercriminals. However, such applications are highly vulnerable to a third-party exploitation, and you should not avoid such security risks.
You can easily uninstall ConvertFilesforFree via Control Panel, but it is also a good idea to check your computer for other potential threats. The best way to do it is to scan the PC with SpyHunter free scanner.
How to remove ConvertFilesforFree
Windows 8
Slide mouse cursor to the bottom right corner of the screen.
When Charm bar appears, click Settings and go to Control Panel.
Open Uninstall a program and remove ConvertFilesforFree.
Windows Vista & Windows 7
Open Start menu and click Control Panel.
Select Uninstall a program and remove ConvertFilesforFree.
Windows XP
Press Windows key and go to Control Panel.
Open Add or remove programs and uninstall ConvertFilesforFree.
After manual removal, you should invest in a licensed antimalware tool and terminate all the remaining unwanted applications. You may also check out the other set of instructions below this description.
In non-techie terms:
ConvertFilesforFree is an adware application that promises to convert your video files, but it cannot do so. You need to get rid of this program ASAP, because it could prove to be harmful to your computer's system.