Do you know what ConvertAnyFile Toolbar is?
ConvertAnyFile Toolbar is a browser plugin which says that it will enable you to convert various .pdf, .doc, .bmp, .gif, .mp3, and .tiff files. Even though it seems to be a really useful browser plugin, it is definitely not 100% trustworthy, so our security specialists do not recommend that you keep it installed. In fact, our specialists recommend that you do not allow other toolbars published by Mindspark Interactive Network, Inc. to enter your system because none of these toolbars are 100% reliable. In fact, it is very important that you remove ConvertAnyFile Toolbar as soon as possible if you have downloaded it from some kind of untrustworthy website because it might be modified and cause serious harm to your system. Do not forget to remove other undesirable programs that might have slithered onto your PC as well.
We do not think that ConvertAnyFile Toolbar can be trusted 100% because icons placed on the toolbar might redirect you to affiliated websites. These websites might not be reliable, which means that you might cause harm to your PC rather quickly. What is more, it has been noticed that ConvertAnyFile Toolbar is closely associated with ask.com. Thus, it is not surprising that this search engine will replace your regular homepage and search provider. We cannot say that this search engine is untrustworthy, but you should know that it might still provide you with third-party links and ads. They will look exactly like normal search results, which mean that you will click on them very quickly. Third-party links, if they appear to you, might also redirect you to untrustworthy websites. If you do not want to end up on them, make sure that you remove ConvertAnyFile Toolbar as soon as possible. You will also have to get rid of ask.com after you remove ConvertAnyFile Toolbar.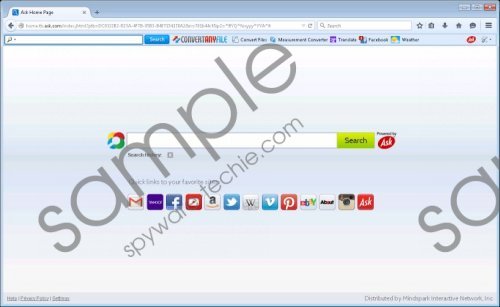 ConvertAnyFile Toolbar screenshot
Scroll down for full removal instructions
Specialists say that ConvertAnyFile Toolbar often travels bundled with malicious software. Thus, we highly recommend that you check your system's condition if you have not downloaded ConvertAnyFile Toolbar yourself from its official website convertanyfile.com. Unfortunately, it is a really difficult task to check the system, so we recommend using an antimalware scanner for this matter. If you do not want to worry about your PC's safety ever again, you should definitely install a trustworthy antimalware tool on the system. As long as you keep it active, malware will not be able to enter your system.
Unfortunately, it is impossible to fully remove ConvertAnyFile Toolbar via Control Panel. Our specialists have noticed that Google Chrome and Mozilla Firefox users will have to delete add-ons in order to get rid of this browser plugin. If you are an Internet Explorer user, it will be enough to delete this toolbar via Control Panel for you; however, you will still have to remove ask.com yourself. If you do not have time to remove ConvertAnyFile Toolbar, you can scan your system with SpyHunter. It will do all the work for you. On top of that, it will protect your system from future malware.
Remove ConvertAnyFile Toolbar
Windows XP
Click the Start button.
Select Control Panel.
Click Add or Remove Programs.
Select the program and click Remove.
Windows 7 and Vista
Open the Start menu.
Select Control Panel.
Click Uninstall a program.
Right-click on the unwanted program.
Click Uninstall.
Windows 8
Access the Metro UI.
Start writing Control Panel.
Click on its icon to open it.
Click Uninstall a program.
Right-click on the application and click Uninstall.
Internet Explorer
Open your browser and tap Alt+T and select Internet Options.
Click on the Advanced tab.
Click Reset.
Check the box next to Delete personal settings.
Click Reset.
Mozilla Firefox
Open your browser and tap Alt+H to open the menu.
Select Troubleshooting information and click Refresh Firefox.
Click the Refresh Firefox once again and then restart your browser.
Google Chrome
Launch your browser and tap Alt+F and select Settings.
Click Show advanced settings.
Click Reset browser settings.
Click Reset.
In non-techie terms:
If you surf the Internet on a daily basis, you have to be very careful because various untrustworthy applications might enter your system without your permission. This might especially happen if you visit untrustworthy websites and download programs from them. On top of that, you might download untrustworthy programs from P2P websites. If you do not want this to happen, make sure that you have a security tool installed and surf the Internet cautiously.