Do you know what ContentPush is?
ContentPush is a pushy application that can annoy you with the content it displays on the right side of your computer screen. The articles and advertisements this program shows you can be very disruptive and take relatively a lot of space from your screen, too. However, the worst thing is that indirectly the content presented by this application might introduce you to potentially unreliable websites. Clicking on such content could take you to unsafe websites. Based on the behavior this software showed during our tests in our internal lab, our researchers say that it is advisable for you to delete ContentPush if you want to protect your computer from further infections or worse. Unfortunately, it is likely that this potentially unwanted program (PUP) is only a small part of your virtual security issues since it can sneak onto your system along with malware infections that could cause more headaches for you and your operating system.
According to our researchers, this PUP is mostly spread over the web in free software packages that may contain several malware threats as well. Installing such a malicious bundle can make your system quite vulnerable and open doors to cyber criminals to take advantage of these holes on your virtual security. You should always stay away from installing questionable bundles unless you are totally sure that the package only contains reliable and useful tools and programs. You can mainly infect your computer with questionable bundles when you click on unreliable third-party commercial advertisements. You can be presented with such ads when your system is infected with ad-supported programs or you visit shady file-sharing, gaming, and pornographic websites. These sites promote a lot of third-party content to make money based on the pay-per-click system. However, the content is not reviewed or controlled by the operators of such pages; therefore, cyber criminals can display deceiving ads that look like system error messages or buttons that seemingly belong to the page (download, next-page, previous-page). When you land on an unfamiliar page, you may get confused and could easily click on such content and, in the end, end up with a bundle packed with adware apps, browser hijackers, and, of course, PUPs.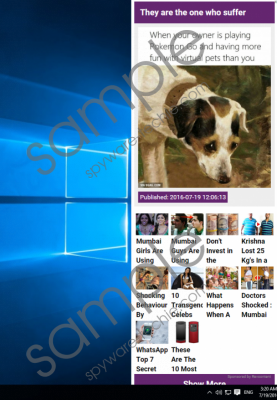 ContentPush Remove Guide screenshot
Scroll down for full removal instructions
Many users do not know or realize that they have an opportunity to stop undesirable tools and programs from being installed by unchecking dedicated checkboxes during installation. It is possible that you can only see these checkboxes if you choose the custom or advanced installation options. It is also possible that the additional and potentially harmful components are only revealed in the agreement you are supposed to read before clicking "Accept" or "Install." If you want to restore the health of your system, you should remove ContentPush and scan your computer with a trustworthy malware scanner.
This application, once activated, makes sure that it autoruns with Windows. This way it makes sure that it annoys you with its potentially unreliable content windows. In fact, this PUP opens quite a big window on the right side of your desktop and loads content through revcontent.com, which is a content recommendation network that claims to have over 200 billion monthly recommendations. If you click on these articles, news pieces, or commercials, a separate full-screen window pops up with the title "ContentPush – news." These annoying windows can only be closed and stop the flow if you open your Task Manager and kill the "nw.exe" process. We do not say that all the content is unreliable, but there is certainly a chance that cyber criminals can exploit this PUP and send targeted content to your screen to lure you onto their fake websites. If you land on websites operated by criminals, you could infect your system with more dangerous threats and also be tricked to reveal personally identifiable sensitive information. We believe that your virtual world would be a safer place if you removed ContentPush as soon as possible.
Strangely enough, our researchers experienced that the uninstaller of this PUP can work just fine at times and leave no leftovers; however, other times it does leave some mess behind. Therefore, we have prepared two removal options for you. The first guide explains how you can uninstall this application using the official uninstaller that you can find in the list of installed programs in Control Panel. The second option is the manual one, which includes deleting folders, files, and registry keys. If you want to clean your system of all possible infections and keep it secure, we suggest that you employ a trustworthy malware removal application, such as SpyHunter or any other tool you find reputable and powerful enough to safeguard your PC from all known malware infections.
Remove ContentPush from Windows
Windows 8/Windows 8.1/Windows 10
Press Win+X and open Programs and Features.
Click on the uninstaller and click Uninstall.
Windows Vista/Windows 7
Access the Start menu and go to Control Panel.
Access Uninstall a program.
Click on the uninstaller and click Uninstall.
Windows XP
Press Win+R and type control panel. Click OK.
Open Add or Remove Programs.
Click on the uninstaller and click Remove.
Manual Removal
Press Win+Q and type regedit. Hit the Enter key.
Locate and delete these registry keys:
HKEY_LOCAL_MACHINE\SOFTWARE\Wow6432Node\Microsoft\Windows\CurrentVersion\Uninstall\ContentPush (64-bit)
HKEY_LOCAL_MACHINE\SOFTWARE\Microsoft\Windows\CurrentVersion\Uninstall\ContentPush
Exit the editor.
Press Win+E.
Delete the following folders and file:
%PROGRAMFILES%\ContentPush
%PROGRAMFILES(x86)%\ContentPush
%WINDIR%\run.vbs
Empty Recycle Bin.
Restart your computer.
In non-techie terms:
ContentPush is an annoying application that uses a big portion of your screen to display various articles, news pieces, and commercials loaded from revcontent.com. This potentially unwanted program mainly sneaks onto your computer through freeware bundles that could contain several malicious software installers as well. Although we cannot claim that this application is a dangerous and direct threat to your virtual security, this PUP can still cause indirect risk by presenting to you potentially unreliable web content. It is quite clear that the presence of this PUP is an indication of multiple security threats, too. Therefore, we suggest that you remove ContentPush from your computer and all other related and non-related infections to make sure that you are using a secure system. If you do not want to hunt down all these enemies one by one manually, we recommend that you use an automated tool, such as an anti-malware application that will also protect your computer from future malware attacks.