Do you know what ContentProtector is?
ContentProtector is an adware application that may cause you quite a lot of trouble. The application may be intended for the Russian users, but when we take a look at its official website we can see that it "speaks" English as well. Thus, this program does not recognize any borders, and it can easily spread all over the globe. Computer security experts strongly suggest that you remove ContentProtector from your system. If you allow this application to remain on your computer, there might be unwanted consequences, and every computer user would want to avoid those.
You are probably wondering how this application managed to slip into your system when you do not even remembering installing, right? Users often think that uninvited applications are malicious infections because they get installed without their permission. However, that is not exactly true. The point is that such adware applications like ContentProtector can be distributed in software packages. It means that users agree to install this application without even realizing it. Bundled software is spread via one third-party installer, and during the installation process, the user is given a chance to choose whether they want to install additional freeware or not.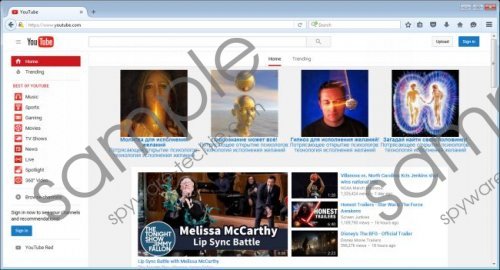 ContentProtector screenshot
Scroll down for full removal instructions
You may say that you did not notice similar notifications when you installed something recently, but perhaps that is because you did not expect to see anything of the kind and you simply skipped through the in wizard without giving it a closer look? Either way, the fact remains that ContentProtector cannot be downloaded and installed from its official website, so the application has to be distributed via third-party installers. According to our research, ContentProtector usually comes bundled with other Russian software such as Torrent Search or eTranslator. If you have recently installed any of the previously mentioned applications, it is very likely that this adware was added to the list of installed programs as well.
Can ContentProtector infect you with malware? Not really. Adware programs have been created having monetary profit in mind, but they do not indulge in a down-right robbery. They can only generate financial profit if you allow it to do so. Rather than stealing your banking logins and passwords, ContentProtector will expose you to third-party commercial content on a regular basis. The program will urge you to click various commercial offers when you browse the Internet. If you click any of the third-party pop-ups, you will help the people behind this program make money. Unfortunately, you will get nothing in return.
Worse, in some cases, you might allow other unwanted software and even malware enter your system. Not all third-party content promoted by ContentProtector is safe. In fact, if you look at the program's privacy policy, you will find the following line that says: "We and the Services may use third party services to provide you with the Services and to serve you with advertisements using Our or third party's technology. <…> Such third parties services may also collect data about your visits and usage of the Software using cookies as well subject to their own privacy policies." This basically means that the application is not responsible for whatever its third-party partners do with the information collected about your web browsing habits.
It is clearly a security loophole that is often exploited by cyber criminals and other shady individuals. ContentProtector might also be misused by cyber crooks to collect data on your web browsing habits, so they could target customized ads at you. The problem is that some of those ads could be embedded with outgoing third-party links that might as well lead you to dangerous websites.
So how is it possible to protect your computer from harm? For starters, you would do yourself a favor if you deleted ContentProtector from your PC. That is not such a hard task, and we will provide removal instructions below this article. However, there might be a lot more unwanted applications on your PC, and you have to take care of them as well.
If you do not know where to start, scan your computer with the SpyHunter free scanner. A full system scan will list all the potential threats, and you will be able to deal with them in one single click. Please do not forget to keep your antimalware tool constantly updated, so that it could protect you from the newest threats. It would be for the best to set the automatic updates option in the program's settings.
How to Remove ContentProtector
Windows 10 & Windows 8.1
Press Win+R and the Run prompt will open.
Type Control Panel and click OK.
Open Uninstall a program and remove ContentProtector.
Windows Vista & Windows 7
Open the Start menu and go to Control Panel.
Select Uninstall a program and remove the program in question.
Windows XP
Click the Start button and navigate to Control Panel.
Double-click Add or remove programs and uninstall the adware.
In non-techie terms:
ContentProtector is a program that you probably installed on your PC accidentally. You have to remove it from your computer because the program is useless. It may also inadvertently expose you to dangerous Internet content. Adware programs are often used by cyber criminals to distribute their dangerous programs. If you do not want this to happen, you have to take the matter into your hands and make sure that your PC is absolutely safe and clean.