Do you know what Contact Us +1-844-324-6233 is?
Have you found your computer's screen locked with the Contact Us +1-844-324-6233 message? If you have, we can guarantee that someone is trying to scam you. According to the analysis conducted by our malware analysts, this scam comes not via web browsers (which is quite common for scams) but from within your own operating system. Malicious files executed within your PC allow cyber criminals to lock up your computer and introduce you to a fake security warning suggesting that your virtual security is a risk. Of course, your virtual security is at risk, but not because of the reasons presented via the misleading notification. The malicious Zeus Trojan is unlikely to be active on your PC, and the biggest threat you are facing is malware linked to the scam. Are you curious as to how to delete Contact Us +1-844-324-6233 malicious components from your PC? If you are, we want to share a few interesting things with you.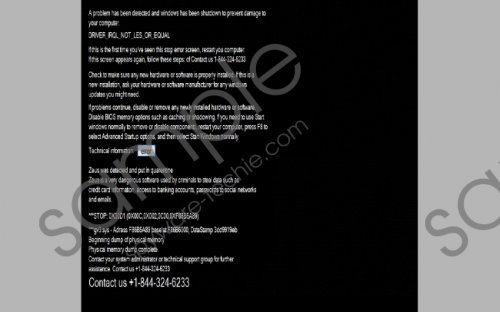 Contact Us +1-844-324-6233 screenshot
Scroll down for full removal instructions
As you now know, Contact Us +1-844-324-6233 is associated with malware. We recognize it by the name "FakeMessage Malware," and you might have downloaded it yourself. Obviously, you would never download a threat knowingly, but malicious components could be hidden within software bundles. It is also possible for this malware to be downloaded by infections that are already running on your PC. Overall, if you discover the scam, two things are clear: Others threats might be present and your operating system is vulnerable to malware invasion. Hopefully, you will take care of both of these issues as soon as you remove FakeMessage Malware. Unfortunately, the removal process is stalled by the "lockdown" of the operating system. The malicious infection uses a window without the "close" option to introduce you to the fake warning. The main executable is added to the startup of your operating system, which means that the window appears every time you restart your computer. Although it is fairly easy to get rid of this window via Task Manager, not all users are aware of that. Moreover, many users are tricked into thinking that the warning is real. Here are a few extracts.
A problem has been detected and windows has been shutdown to prevent damage to your computer.

If this is the first time you've seen this stop error screen, restart your computer.
If this screen appears again, follow these steps: of Contact us 1-844-324-6233

If problems continue, disable or remove any newly installed hardware or software.
Do you believe all this nonsense? The number is fake, which you can figure out by doing a simple search via your preferred search provider. Also, Windows would not be shut down if errors occurred. Now, if you go on with the removal of new hardware and software, you might lose valuable and costly programs; so, do not jump to that. The malicious FakeMessage Malware responsible for the Contact Us +1-844-324-6233 scam does not have an uninstaller. In fact, it is so clandestine that regular users are unlikely to find it themselves. Of course, the worst thing you can do is call the number that supposedly enables communication with technicians able to solve all Windows problems. If you want to solve these problems, why don't you call Microsoft technicians? The schemers behind +1-844-324-6233 are ready to scam you, and they will never help you. So, what could happen if you fell into the trap set up by virtual schemers? First of all, they could trick you into disclosing sensitive private information. Whatever you do, do not disclose credit card information because that could lead to illegal transactions! Furthermore, there is a great possibility that schemers could trick you into downloading software that could enable remote access. Do you want schemers to take control of your operating system? If you do not, DO NOT call the fake helpline number and immediately delete FakeMessage Malware.
You must remove FakeMessage Malware to get rid of the Contact Us +1-844-324-6233 scam. After analyzing this threat, we have come to a conclusion that it is best to eliminate it using anti-malware software that can automatically discover and delete all malicious components. Can you eliminate them manually? Although it is possible that you will be able to handle the removal of this threat, be ready for a lengthy and complex operation. Furthermore, you might be dealing with additional threats that might be just as complicated. If you have any questions about the removal process, please leave them in the comments section below.
Delete Contact Us +1-844-324-6233
Tap Ctrl+Shift+Esc to access Task Manager.
Terminate the process named ImageLoader to unlock the screen.
Tap Win+E to access Explorer.
Enter the following lines (one by one) into the address bar of the Explorer to find and Delete the malicious file (bolded). Note that your Users profile might be in a different drive, not necessarily in C:.

C:\Users\Default\AppData\Local\AutoUpdate\AutoUpdate.bat
C:\Users\Default\AppData\Local\Microsoft\ImageLoader\ImageLoader.exe
C:\Users\Default\AppData\Roaming\Microsoft\AutoUpdate\AutoUpdate.bat
C:\Users\Default\AppData\Roaming\Microsoft\ImageLoader\ImageLoader.exe
C:\Users\Default\AppData\Roaming\Microsoft\Windows\Start Menu\Programs\ClientProtocol\wincpu.exe
C:\Users\Default\Act\Act.bat
C:\Users\Default\AppData\Roaming\Microsoft\AutoUpdate\Autoupdate1.bat
C:\Users\Default\Roaming\Pod\Pod.bat

Tap Win+R to access RUN.
Type regedit.exe and click OK to access Registry Editor.
Go to HKEY_LOCAL_MACHINE\SOFTWARE\WOW6432Node\Microsoft\Windows\CurrentVersion\Run.
Delete the value named wincpu (the value data should point to C:\Users\Default\AppData\Roaming\Microsoft\Windows\Start Menu\Programs\ClientProtocol\wincpu.exe).
In non-techie terms:
It is important to remove Contact Us +1-844-324-6233 malware from your operating system. This malware can communicate with remote servers, paralyze your operating system, and feed you false information just to trick you into contacting virtual schemers. Calling the fake helpline at +1-844-324-6233 might be not only costly but also very dangerous. By calling this number, you might expose yourself to smart schemers who could trick you into revealing your virtual identity and opening a backdoor for cyber criminals to take over your operating system. Hopefully, you will remove the infection in time. If you have been tricked, do whatever is in your power to strengthen your virtual security and protect yourself against cyber criminals.