Do you know what ConservativeTalkNow toolbar is?
ConservativeTalkNow toolbar is a browser plug-in that is not supposed to be installed on your computer. Although this application cannot do much harm on its own, ConservativeTalkNow toolbar and other similar browser extensions can be easily exploited by malevolent third parties and whether you like it or not you could be exposed to dangerous third party content that could even lead to a malware infection.Thus, removing ConservativeTalkNow toolbar from your computer is definitely a good idea. You should also think about investing in a licensed antimalware tool while you are at it.
In fact, taking into account the origins of ConservativeTalkNow toolbar, we may know a lot more about the extension that we would want to. For one, it is a Mindspark toolbar, so it is directly related to such browser extensions as APlusGamer Toolbar, Citysearch toolbar, ButterflyField toolbar and many others. All of these applications are supposed to add specific functions to your browser making the web browsing an exciting experience. However, it is very likely that usually users do not even realize the implications of having something like ConservativeTalkNow toolbar on their computers.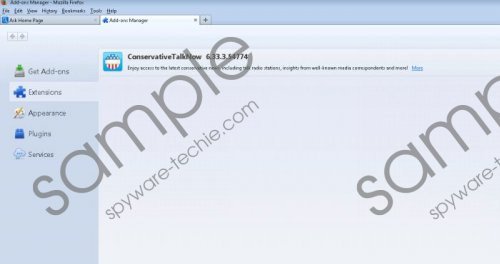 ConservativeTalkNow toolbar screenshot
Scroll down for full removal instructions
It is true that ConservativeTalkNow toolbar can be downloaded at the official website at conservativetalknow.com. The same applies to all the other extensions from Mindspark family. The Mindspark support page even has detailed instructions on how one should remove ConservativeTalkNow toolbar from his/her computer, so it would seem that the application is definitely not a malicious computer threat, especially as it can also be found at Chrome app store.
However, in some cases users may think that ConservativeTalkNow toolbar functions as a browser hijacker, because if you install the full version of the application it will change your default homepage and search engine as well. If you fail to remove the tick from one of the options during ConservativeTalkNow toolbar installation, home.tb.ask.com will be set as your default homepage. It is definitely an annoying feature, but at the same time you can easily avoid that if you read all the installation steps properly.
Computer security specialists say that it is necessary to remove ConservativeTalkNow toolbar and other similar applications, because they make your system vulnerable to various outside threats. Not to mention, that with the browser settings modification, sooner or later you could get exposed to third party websites that are part of adware and perhaps even malware distribution networks.
Follow the manual removal instructions below to uninstall ConservativeTalkNow toolbar and then do not hesitate to acquire a powerful antimalware tool that would keep your PC safe. Also, please leave us a comment if you have any questions on ConservativeTalkNow toolbar removal.
How to uninstall ConservativeTalkNow toolbar
Windows 8
Move mouse cursor to the bottom right corner of the screen.
Click Settings on Charm bar and select Control panel.
Open Uninstall a program and remove ConservativeTalkNow toolbar.
Windows Vista & Windows 7
Open Start menu and click Control Panel.
Go to Uninstall a program and remove ConservativeTalkNow toolbar.
Windows XP
Click Start menu and navigate to Control panel.
Open Add or remove programs and uninstall ConservativeTalkNow toolbar.
Change browser settings
Internet Explorer
Press Alt+T and go to Internet options.
Change your homepage address under General tab and click OK.
Press Alt+T and click Manage add-ons.
Press Search providers on the left.
Set a new default search engine, remove Ask Search and click Close.
Mozilla Firefox
Click the search engine icon on the left of Firefox search box.
Select Manage search engines on drop-down menu.
Remove Ask Search from the list and click OK.
Click Firefox button and go to Options.
Change your homepage address under General tab and click OK.
Press Ctrl+Shift+A for Add-ons manager tab to show up.
Disable and remove ConservativeTalkNow from Extensions. Restart your browser.
Google Chrome
Click Alt+F and select Tools. Open Extensions.
Remove ConservativeTalkNow and click Settings on the left.
Select Open a specific page or set of pages and click Set pages.
Change your startup page address and click OK.
Select Manage search engines under Search.
Set a new default search engine, remove Ask Search and click Done.
In non-techie terms:
ConservativeTalkNow toolbar is a browser extension that can lead to serious computer security issues. Even if you have installed the application yourself, you should really remove ConservativeTalkNow toolbar from the system right now.