Do you know what Configs is?
Configs is described as a unique browser extension that can "change the way you search online" and allow you to "see a different search results full of surprises." This might make it sound advanced and useful, but according to our researchers, it is just another potentially unwanted program that cannot be trusted. There is not much information from its creators, but from our experience with similar applications, we believe there is a possibility it could have been created to gather information about user's browsing habits or show third-party advertising content. Further, in the article, we will also explain how Configs might work. Our researchers say there is nothing special about it and considering the risks you might be taking while leaving this potentially unwanted program on the system; we do not think it is worth it. Thus, after you read the text, we encourage you to delete this suspicious search engine with the removal guide provided a bit below or a reputable antimalware tool of your preferences.
The research shows, Configs could be bundled with other unreliable applications alike, such as browser hijackers, adware, etc. Therefore, if you received this potentially unwanted program, keep it in mind there could be more questionable tools on your system, so it might be the time to clean it up. After the installation, the extension may replace your default search engine, although we should mention it should be able to do so only on Google Chrome. Apparently, the application is not compatible with other browsers besides Google Chrome.
Furthermore, the Configs description says it can change the way you surf the Internet by presenting a new search technique: "in your address bar just type configs & your desired search term." We are not sure how this way of searching the Internet is anyhow new since you can enter search keywords into the address bar on any browser and without installing any additional extensions or other tools. The browser will simply initiate a search with your default search engine.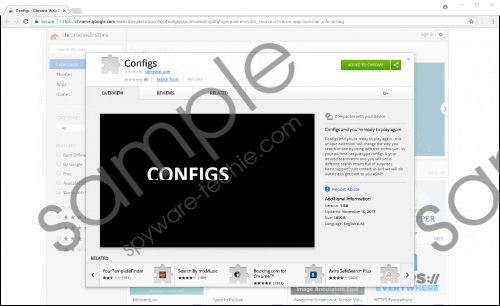 Configs screenshot
Scroll down for full removal instructions
The difference is that if you type "Configs" and only then the keyword, the browser should redirect you to a search engine chosen by this potentially unwanted program. We believe the results could be displayed by a modified version of Bing because the application's description mentions it. Unfortunately, there is no other information about the extension as it does not provide Privacy Policy and End User License Agreement documents. It looks like the official tool's website (somethat.com) is supposed to provide links to the mentioned documents, but at the moment of writing, they just do not work. This is why we cannot be one hundred percent sure about third-party advertising or collected information.
In other words, based on our knowledge of other similar programs, we can only guess it could collect data about user's browsing habits and later show him targeted advertising content. If this is true, we would advise you to stay away from such untrustworthy ads since they might originate from malicious web pages. However, it seems to us Configs is not as unique and useful as it might sound like and so we do not think it would be wise to risk the computer's safety and keep it installed. If you agree with us, we encourage you to erase the potentially unwanted program with the instructions located below or an antimalware tool you trust.
Erase Configs
Press ALT+F.
Select Settings.
Click More tools.
Select Extensions.
Look for Configs.
Click the trash bin button near it.
Press Remove.
In non-techie terms:
Configs appears to be a potentially unwanted program, which means some users may find it annoying or wish to get rid of it even though they installed it themselves because of particular undesirable qualities. Our researchers say this search engine falls under such category because it could replace user's default browser options and there is a possibility it might gather information about the user or show him questionable third-party advertising content. If you find it irritating as well, we advise you not to hesitate anymore and erase this suspicious browser extension at once. Those who decide to eliminate it could do so manually while following the removal guide available a bit above this paragraph or with an antimalware tool.