Do you know what Computer Software Market is?
You might think you will be getting access to many useful programs if you install Computer Software Market. This application supposedly provides installers for different apps, games, and other kinds of beneficial software. Although this "market" promotes Firefox, Google Chrome, VLC Player, and the installers of other popular programs, it was also found to promote browser hijackers (e.g., mysearch123.com), potentially unwanted programs (e.g., Picexa), and ad-injecting software. If you are not careful, you might let in unreliable programs without even knowing it because they are likely to be introduced to you in an attractive manner. Considering that completely reliable programs are promoted along with potentially malicious programs, it is not surprising that computer users can be careless when installing software. It is crucial that you remove any unreliable programs, and we suggest deleting Computer Software Market first.
It is likely that you have downloaded Computer Software Market from computersoftwaremarket.com, which is its official download page. However, we do not reject the possibility of finding this program in a software bundle. Needless to say, if you use unreliable sources and installers, you should not be surprised to find this PUP (potentially unwanted program) installed along with other unreliable programs. It is unlikely that software traveling along with this PUP will be installed silently; however, we advise using a malware scanner just to make sure that you do not miss any silent threats. You can also run a scanner to see if the seemingly reliable programs that you install from Computer Software Market are authentic and trustworthy. According to our researchers, this PUP belongs to Elex, who is the developer of Universalsearches.com, 337Games Virus, and other unreliable programs that require removal. Because these programs were created by the same company, it is possible that they will be bundled together. Note that officially the creator of this PUP is Woodtale Technology Limited; however, it is likely that this company is fictitious.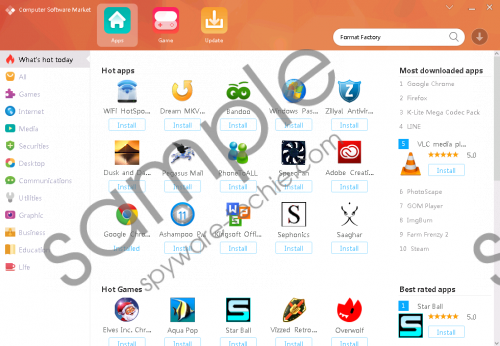 Computer Software Market screenshot
Scroll down for full removal instructions
If you have analyzed the Privacy Policy of Computer Software Market, you know that this program works with unknown third parties. Furthermore, you know that it collects information using tracking cookies. Sure, this PUP does not track personal information; however, it can share information useful to third-party advertisers and unreliable parties. We do not claim that the creator of this PUP is directly associated with malicious advertisers; however, the parties that it works with are unknown, and we cannot be sure that they are reliable. Needless to say, this is an important reason to distrust this strange PUP, and possibly even remove it from your Windows operating system. Of course, you should postpone the removal of Computer Software Market for now if you find much more aggressive threats installed on your PC.
Are you choosing between automatic and manual removal options? If you decide to implement an automated malware remover, you will not need to worry about any threats or further protection of your operating system. If you do not want to invest in new software because your operating system is already protected by a security tool you trust, think about the current state of your virtual security. If the security software installed on your PC was reliable, you would not need to worry about the infiltration of unfamiliar and questionable programs. Maybe it is time you upgraded to a better, more reliable security tool? If you are sure that you only need to remove Computer Software Market and you do not want to invest in any security tool yet, you can follow the guide below.
Removal process
Windows 10 and Windows 8:
Tap Win+R to launch RUN.
Enter Control Panel into the dialog box and click OK.
In the Programs menu click Uninstall a program.
Right-click the app you wish to get rid of and click Uninstall.
Windows 7 and Windows Vista:
Click the Windows icon on the left of the Taskbar.
Open the Control Panel menu for more options.
Click Uninstall a program and right-click the PUP.
Click the Uninstall button to erase this program.
Windows XP:
Click the Start menu button on the Taskbar.
Open the Control Panel menu for more options.
Double-click Add or Remove Programs.
Click the undesirable application and choose Remove.
In non-techie terms:
Although Computer Software Market promotes the installers of reliable programs, it also presents malware. On top of that, this potentially unwanted program can use cookies to record information about you and deliver it to unknown parties. We believe that you should erase this PUP from your PC right away, and you can do this the quickest using an automated malware remover. It will not only erase the strange PUP but all other unreliable programs as well. Now, if you choose the manual route, at least install a malware scanner to see which other unreliable apps or malicious threats you need to tackle next.