Do you know what Computer Pal is?
Many computer users still believe that Computer Pal is a reliable shopping assistant, which is why we have decided to create this report. Even though you can learn about this program by reading our reports that show how to delete Computer Chair, Dig Deep, and other programs that are identical to Computer Pal, not many users know this. The truth is that SuperWeb LLC – which is the developer of these programs – keep creating the same kind of programs. Even the sites that represent these programs look alike, which should help users realize that this software is unreliable. Unfortunately, most users are careless, and they do not take the time to educate themselves about virtual security issues. If you have been tricked into installing this ad-supported program and now want to delete it, we dedicate this article to you. Read this report and learn how to remove Computer Pal.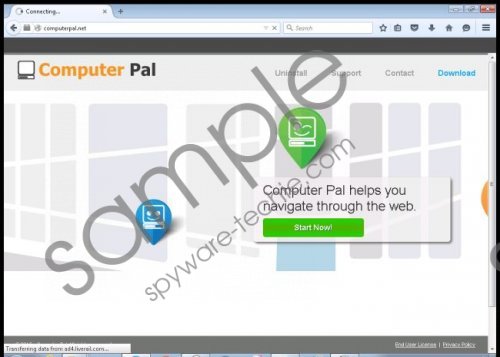 Computer Pal screenshot
Scroll down for full removal instructions
Even if you install Computer Pal by accident without knowing about it – which happens rarely – you should realize that this program has entered your PC as soon as you encounter the "Ads by Computer Pal" or "Provided by Computer Pal" advertisements. If you notice ads that are not identified, you might have to link them to other ad-supported programs. Unfortunately, users who are trying to delete Computer Pal usually find that they also need to remove third-party adware, potentially unwanted programs, tracking cookies, and even browser hijackers. This is not that surprising, considering that all SuperWeb applications are distributed using software bundles. It would be naive to think that Computer Pal would be installed with reliable and beneficial programs, as it is neither reliable nor beneficial. If you have analyzed the information provided at computerpal.net, you should know that this program works with third-parties that are not disclosed, which makes Computer Pal a suspicious and unpredictable program.
If you want to delete Computer Pal from your operating system successfully, you have to work with a legitimate malware scanner. Even though a scanner will not help you remove Computer Pal, it will help you identify the files that you might have to get rid of after uninstalling this adware from your Windows operating system. Once you are done with Computer Pal, you will have to repeat the same processes with other undesirable programs. Unfortunately, some of them might work in a completely different manner, and their removal might be much more complicated. If you cannot successfully delete them manually, employ a security tool that will remove all threats automatically.
Remove Computer Pal
Remove from Windows 8 & Windows 8.1
Access the Charm bar in Metro UI and click Search.
Find Uninstall a program.
Right-click Computer Pal and select Uninstall to delete it.
Remove from Windows 7 & Windows Vista
Move to the Taskbar and click the Windows icon.
Select Control Panel and move to Uninstall a program.
Find the program you want to delete, right-click it, and select Uninstall.
Remove from Windows XP
Click the Start icon on the Taskbar and open Control Panel.
Double-click Add or Remove Programs and select Change or Remove Programs.
Select the undesirable application and click the Remove button.
In non-techie terms:
Computer Pal is an ad-supported program that we advise removing because it can expose you to unreliable ads. If you want to learn how to delete Computer Pal from your browsers and your operating system, you can follow the removal guide above. Note that this guide was not tested with other infections that could be installed along with adware. If you decide to remove these programs manually, research them first to learn what kind of removal obstacles you might encounter. Of course, you will have fewer problems if you install an automated malware remover.