Do you know what CompareNBuy is?
CompareNBuy is an application built using the JustPlugit engine. Our malware researchers are familiar with this engine, because it has been employed for the creation of Boomdeal, AllstarAdBlocker, Foxwebber, BrickStrengthener, and a bunch of other suspicious applications that we recommend removing. Even though all of these programs have different names, and they may offer different services, we can assure you that they all serve one single purpose. These apps have been created as an advertising platform, and if you install them, you can expect an onslaught of banner and pop-up advertisements. If you want to stop this attack, you must delete CompareNBuy. Unfortunately, this is easier said than done. Read the report and use our removal tips to delete all undesirable advertisement-supported programs.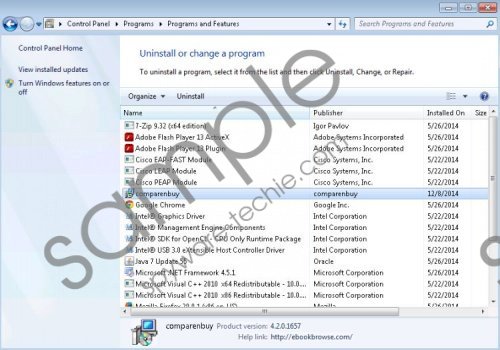 CompareNBuy screenshot
Scroll down for full removal instructions
There is no official website representing CompareNBuy, which is why it is sometimes difficult for regular users to understand how it works and why it requires removal. We are sure that if computer users knew that this program was set to communicate with third-party adware servers and display highly questionable advertisements, no one would install CompareNBuy. Instead of promoting the application via an official download page, its developers have chosen to use third-party software installers, including Installrex, Amonetize, and Vittalia. It is always risky to trust unfamiliar third-party software distributors, because they may work with schemers who are interested in distributing malware that you may already need to remove from your PC. Even though you need to remove CompareNBuy because it is unreliable and may introduce you to highly misleading ads, it is possible that the software installed alongside must be deleted as well.
Do you still think that CompareNBuy is a beneficial program? You cannot expect it to provide useful and truly reliable offers, because this is not the main objective of the people who have created this advertisement-supported program. The creators of adware are always interested in profit, and the more ads CompareNBuy displays, the more money can be earned. Therefore, instead of trusting the alleged benefits of the useless applications, we believe that you should remove CompareNBuy. Note that after removing the app from your PC manually (see instructions) you need to scan your system for leftovers. If malware continues running, install automatic malware removal software. Note that if you install reliable security software, you will ensure reliable Windows protection as well.
Delete CompareNBuy
Delete from Windows XP:
Find the Windows/Start logo on the Taskbar and click it to open the user menu.
Select Control Panel to open a new menu and double-click Add or Remove Programs.
Select Change or Remove Programs (in the menu on the left) and Remove CompareNBuy.
Delete from Windows Vista & Windows 7:
Navigate to the left corner of the Taskbar and click Start to open a user menu.
Select Control Panel and move to Programs (or Programs and Features).
Click Uninstall a program and then right-click the application you wish to remove.
Finally, click Uninstall.
Delete from Windows 8:
Tap the Windows key on the keyboard to access the Metro UI start screen.
Click the arrow at the bottom of the screen to open the Apps menu.
Select Control Panel (under Windows System) and click Uninstall a program.
Right-click the application you wish to remove and select Uninstall.
In non-techie terms:
CompareNBuy is an application that has been created to display online advertisements. Unfortunately, these ads are unpredictable, because adware may connect to unreliable adware servers supporting cyber criminals and unreliable parties. Use the instructions above to delete CompareNBuy from your PC manually, and then remove the leftover files, if they exist, and other potentially active threats using reliable automatic malware removal software. Keep this software updated to ensure that other malware attacks are stopped in time.