Do you know what Combotab is?
If you think that Combotab is a useful extension, you are wrong. It is yet another potentially unwanted program that promises great services when, in reality, can do nothing good. Although this extension is meant to make it easier for you to visit your favorite sites and check the latest weather forecast, in reality, it serves third-party advertisers more than anyone else. What is the benefit of using this add-on? According to our research team, there is nothing beneficial about it, and so its installation is not advised. If it is already active, there is only one thing you need to do: Remove it! If you scroll to the bottom of the article, you will find instructions explaining how to delete Combotab, but we advise reading this article first to learn more about this potentially unwanted program.
Although Combotab does not have an official download source, it can be found at the Chrome web store (chrome.google.com/webstore/detail/combotab-useful-new-tab/kfpjhjnjnbobhhfkcieoddoalibkbgdk), which is a relatively reputable source. Of course, from time to time, malicious extensions are made available via it, and so you have to be cautious. According to the data on the Chrome web store, the add-on has nearly 40 thousands users, which is shocking, considering that it has a rating of 2/5 stars and that all reviews are pretty unforgiving. In fact, just by looking at the reviews, it becomes clear that the suspicious Combotab is distributed in strange ways. Our research has revealed that the installer of this add-on could hide behind fictitious installers, and users could be introduced to it via browser-locking pop-ups. Unfortunately, there is a possibility that this extension has entered your operating system bundled with malicious infections that require removal as well.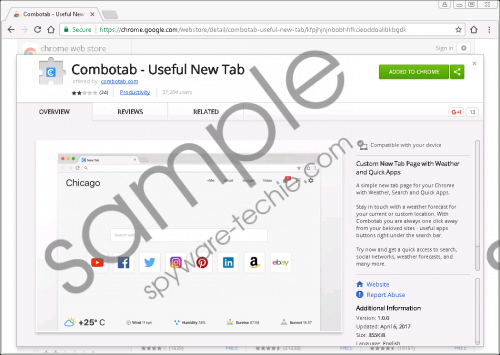 Combotab screenshot
Scroll down for full removal instructions
Although Combotab is represented as a "Useful New Tab," there is not much that can be considered useful. Sure, it provides you with a weather forecast and an array of links routing to popular websites (e.g., Instagram, Facebook, or Twitter), but it is not useful. The search tool it presents – Combotab.com – is not useful either. In fact, it could be dangerous. It redirects to google.com/search, which, of course, is Google Search, and that is something users do not pay enough attention to. Sure, the results seem to be delivered by Google, but, in reality, the PUP can include sponsored links by third parties. If you have read the Privacy Policy, you know that that this strange extension admits to including "content and ads from third parties." These parties could also track your activity, which is another thing to consider when discussing the removal of Combotab.
Even though Combotab lets you know the weather and enables you to access a bunch of popular sites from one spot, you cannot identify it as a beneficial tool. That is what the creator of this extension wants you to think because if you do, you might trust the search tool that is presented as well. This search tool is very unreliable because it showcases sponsored links/advertisements via Google Search, which means that it tricks users into thinking that the results they are shown are fine. Deleting Combotab is not a complex task, and you should be able to succeed at it using the steps shown below. Of course, manual removal is not recommended if other infections are present, in which case, employing up-to-date and legitimate anti-malware software is the smartest move.
Delete Combotab
Launch your Google Chrome browser and tap Alt+F keys.
Click More tools and then select Extensions.
Click the trash bin next to the undesirable add-on and select Remove.
Tap Ctrl+Shift+Delete and erase cookies.
In non-techie terms:
Combotab is a potentially unwanted program that our research team recommends removing as soon as possible. Although the exterior of this PUP is attractive, what lies beneath can be unsettling and scary. This suspicious program is capable of showcasing third-party advertisements, and since we know nothing about these third parties, trusting their ads could be a big mistake. Also, the distribution of this PUP is highly questionable, and it appears that malicious parties are involved. It is our recommendation that you remove Combotab, and you can do that manually (refer to the guide above) or using an anti-malware tool. Stick with the anti-malware software if other infections are found and if you need reliable protection against them herein.