Do you know what Color Generator is?
Color Generator is a Google Chrome extension that our research team classifies as a PUP – potentially unwanted program. At the time of research, it was compatible with this one web browser only, but if it crosses over to other browsers at the time you are reading this, you can post a comment below, and we will add instructions that show how to delete the PUP from them. In this report, we discuss the removal of Color Generator from Google Chrome. So, why should you get rid of this extension? It is suggested that the add-on can create color pallets, and that might be useful for those who are designing virtual products. That being said, although the app does not appear to be completely useless, there are reasons why trusting it is not recommended.
First and foremost, we have to discuss the origins of Color Generator. If it exists on your web browser, it must have found a way into it. Some users might download the extension from the official download page (originallyapp.cool) or the Chrome web store (chrome.google.com/webstore/detail/color-generator/kjbgfepijegnfjopiijkcgloefgkobpi), but our researchers warn that less reliable sources could be used to distribute this PUP also. In fact, our research team has found the extension to be distributed with the help of misleading pop-ups as well as using unauthorized redirecting. It appears that once the user is redirected to a specific page, it goes full-screen, and the user is forced to install the promoted add-on so that the full-screen would be disabled. Needless to say, an extension that is spread in such an aggressive manner cannot be trusted. If you have downloaded anything against your wishes, delete it right away. If you are currently dealing with the full-screen situation, try pressing Alt+F4 keys to close the browser, or launch Task Manager (tap Ctrl+Alt+Delete) and kill the browser.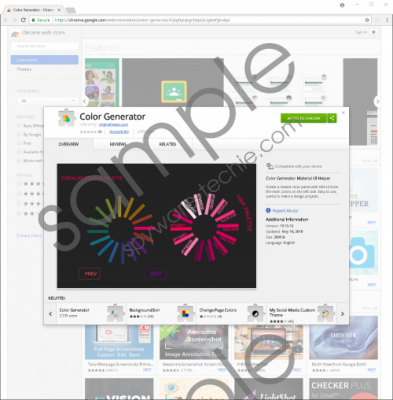 Color Generator screenshot
Scroll down for full removal instructions
Once installed, Color Generator does not make any visible changes. Unlike plenty of other PUPs that we have reviewed in the past, it does not hijack the homepage or default search provider, and it does not represent itself via the New Tab. Well, if it does not hijack, and its services are not completely worthless, why would you delete Color Generator? First and foremost, you must not forget about the questionable distribution of this extension. Second, you need to think about your virtual security. According to the Privacy Policy – which is represented via the official download page – the creators of the extension do not collect or share personal information; which is good news. Unfortunately, non-personal information can be collected, and the creators of Color Generator allow third parties to promote their products and services. This could be an important reason to remove this extension right away.
Do you want to delete Color Generator? That is what you must decide yourself. Considering that this program is not all that beneficial, that it is distributed in an aggressive manner, and that it runs in a suspicious way in the background, we suggest that you do remove it. Hopefully, other infections do not exist, and you can easily eliminate Color Generator using the guide below. What if other threats exist? The elimination of the PUP would not become more complicated, but we cannot say whether you would be able to get rid of all other infections yourself. This is why using anti-malware software is recommended.
Remove Color Generator from Google Chrome
Launch the browser and tap keys Alt+F together.
In the menu on the left click More tools.
Select Extensions and find the undesirable add-on.
Click Remove and then restart your browser.
In non-techie terms:
Color Generator might seem like a great tool "on paper," but it is clear that is not as reliable as it might appear to be at first. Our research team has observed it entering systems in aggressive ways, and it was also found that it could promote third-party products and services too. On top of that, it can record information about all of its users. If you are sure you want to delete Color Generator, you can do that using the instructions that are shown above, or you can install anti-malware software. It would remove the PUP automatically. Of course, it is most important that it would also eliminate all other threats and that it would ensure efficient protection against malware and potentially unwanted programs in the future.