Do yo know what CodecEX is?
CodecEX is a free browser add-on which is aimed at enhancing your video watching experience. The program is presented as a tool that enables you to listen and watch your favorite online content without any malfunctions of the browsers. The program accelerates the file loading so that you can enjoy your video watching sessions.
CodecEX is compatible with Internet Explorer, Google Chrome, and Mozilla Firefox. It is promoted at codec-ex.info, but you should be alert to the possibility of encountering this program on other websites. The program may be bundled with other free programs, and, if you do not want to deal with unwanted program, you should be very careful when installing your preferred programs. You should always review the information displayed on the screen by the setup file so that you do not have to suffer adverse consequences. As regards the use of CodecEX, we recommend that you remove it from the computer because this program may provide you with third-party advertisements. CodecEX is a JustPlugIt-based browser add-on, and JusPlugIt browser add-ons are usually programmed to display various third-party advertisements, which include web banners, coupons, pop-ups, and some other advertisements.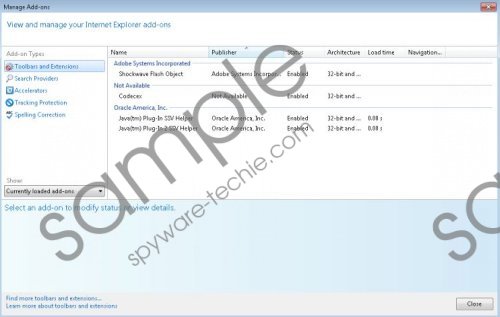 CodecEX screenshot
Scroll down for full removal instructions
CodecEX advertisements may disturb you on almost every website you access. Moreover, the content of those advertisements is likely to be unrelated to your browsing interests or search terms. This characteristic is typical of basically every adware program because the developers of adware programs accept no responsibility for third parties. By installing CodecEX, you accept responsibility for your interaction with CodecEX and third-party services, and, if you have just changed your mind, do not wait but remove CodecEX from the computer as soon as can.
Moreover, you should bear in mind that most browse add-ons use some tracking techniques to record your preferences, and CodecEX may use some, too. Hence, if you do care about your privacy, you should be more careful when choosing programs for your browsers.
Below you will find our removal guide which should help you uninstall CodecEX but we recommend that you implement SpyHunter. CodecEX is included on the detection list of our recommended security program, so you do not hesitate to install it. Our recommended program easily fights off multiple computer threats, including browser hijackers, adware, ransomware infections, fake anti-virus programs, rootkits, and other threats. If you want to be one of those protected computer users, take action right now.
How to remove CodecEX
Windows 8
Press the Windows key to open the Start menu.
Start typing control panel.
Click the Control Panel icon.
Select the Uninstall a program option.
Remove CodecEX.
Windows Vista and Windows 7
Click Start.
Select Control Panel.
Click Uninstall a program.
Remove the unwanted application.
Windows XP
Open the Start menu.
Click Control Panel.
Select Add or Remove Programs.
Uninstall the unwanted program.
In non-techie terms:
If you want to have CodecEX removed for you, use our recommended security program. Below you will find our instructions on how to uninstall the scanner of SpyHunter, which easily detects malicious files.