Do you know what Clicon is?
Clicon is an adware application that targets computer users in Spain, but that doesn't mean that everyone else is safe. The application can be a start of a serious computer security issue because it could be exploited by malevolent third parties to promote and distribute their content. You have to remove Clicon from your computer along with other related applications because adware programs are highly vulnerable, and they can be easily misused as malware distribution tools. Hence, the sooner you get rid of Clicon, the better.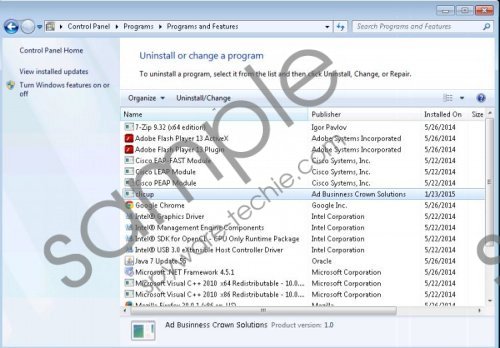 Clicon screenshot
Scroll down for full removal instructions
This adware application is closely related to Cyclon Gems, which is yet another adware program. It can be downloaded from cyclon-gems.com. There is no separate download button for Clicon, so it means that this piece of software either comes with Cyclon Gems or gets distributed bundled with other freeware. According to our research specialists, Clicon can really come bundled with other unwanted programs. Thus, you need to exercise caution whenever you download applications from third-party file sharing websites. It is very often that users can choose whether they want to install the likes of Clicon on their computers or not, but the problem is that they generally fail to read all the installation steps.
Usually, adware programs employ extensions to collect data on your web browsing habits, but Clicon does not need that. It uses a service called clicup.exe or clicon.exe to display commercial advertisements. You can find the services running in the list of system processes via Windows Task Manager. However, killing these processes won't solve anything because the program is bound to start automatically the next time your system boots.
Research shows that Clicon might also be called Clickon or Clicup, but it doesn't change the fact that it is still the same adware. Cyclon Gems, Clicon, and others similar applications enter your system with the intention to make some easy money. Luckily, Clicon does not try to rob you off like a rogue antispyware application or a ransomware program. Nevertheless, constant pop-up ads may eventually redirect you to unreliable websites. Clicon cannot guarantee that all the links embedded in its ads lead to safe web pages. Do not forget that adware programs can be easily exploited by cyber criminals to distribute malware or redirect users to malware-related sites.
That is why you must remove Clicon as soon as possible. When you uninstall this application via Control Panel, you need to terminate all the other unwanted programs as well. If you do not know which programs might pose a potential threat to your system's security, invest in a licensed antispyware tool that will delete unwanted applications automatically.
How to remove Clicon
Windows 8 & Windows 8.1
Slide the mouse cursor to the bottom right of your screen.
Click Settings on the Charm bar and go to Control Panel.
Open Uninstall a program and remove Clicon.
Windows Vista & Windows 7
Click the Start menu and go to Control Panel.
Open Uninstall a program and remove Clicon.
Windows XP
Open the Start menu and navigate to Control Panel.
Access Add or remove programs and uninstall Clicon.
In non-techie terms:
Clicon is an adware component found in Cyclon Gems and other bundled freeware applications. Clicon will display a lot of annoying commercial advertisements unless you remove it from your PC for good. For an alternative software removal method, please check out the secondary set of removal instructions below.