Do you know what Clickforms.ru is?
Clickforms.ru is a new browser hijacker that might enter your computer secretly. If it ever does that, you will see it set on Internet Explorer, Google Chrome, and Mozilla Firefox browsers you keep installed. In other words, you will understand quickly that you have become a victim of malicious software. We have to say that Clickforms.ru is quite a unique browser hijacker. Do you want to find out why? Read this article carefully. You will find out more about Clickforms.ru and why you need to remove it from your browsers. Also, it will be explained to you how to erase this infection from the system. We hope that we will manage to convince you to delete it because you risk causing harm to your system by allowing Clickforms.ru to stay on your browsers.
Like other well-known browser hijackers, Clickforms.ru sneaks onto computers without permission and then immediately changes the settings of browsers. We can assure you that you will no longer see your preferred homepage if this threat finds a way to your computer. Also, the address Clickforms.ru will be visible in the URL line. Unlike other websites distributed by a browser hijacker infection, Clickforms.ru does not have a search box on its main page, i.e. it does not try to pretend a useful search tool. Instead, it redirects users to pages containing advertisements, or it might take people to websites promoting undesirable software immediately after they open their browsers. This is the feature that makes Clickforms.ru browser hijacker rather unique. Of course, it does not mean that it is not dangerous. According to our specialists, ads Clickforms.ru will open for you might seem to be perfectly decent at first glance; however, the truth is that they might ask you to enter personal information and then might use it for bad purposes, offer to buy a non-existing product, or download an unreliable application. Of course, these ads are quite irritating as well. Unfortunately, it will not be easy to remove Clickforms.ru and make those ads disappear because this browser hijacker modifies the shortcuts of all the browsers in order not to be removed easily. It is clear that it will add the line "http://n.clickforms.ru/c/1a30e417c259f275" next to the original Target line, for example, "C:\iexplore.bat" http://n.clickforms.ru/c/1a30e417c259f275?". This means that you will have to restore the shortcuts and only then delete Clickforms.ru manually.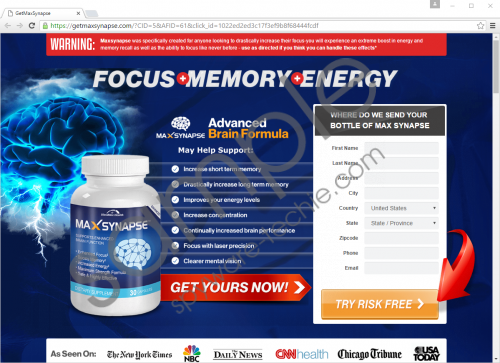 Clickforms.ru screenshot
Scroll down for full removal instructions
In fact, Clickforms.ru not only changes the shortcuts of browsers. Research has shown that it also immediately creates files firefox.bat and iexplore.bat in %Homedrive% and chrome.bat in %PROGRAMFILES% (%PROGRAMFILES(x86)%). This is another unique feature of Clickforms.ru browser hijacker because other hijackers tend to install extensions but they do not create any files. Unfortunately, it also means that it will be more difficult to remove Clickforms.ru.
Browser hijackers are usually spread bundled with other applications, usually freeware and shareware, which explains why so many users do not know anything about their entrance. It is known that browser hijackers might be set on all the browsers when users click on some kind of untrustworthy link they come across on the web too. You need to be very cautious, and you will not allow any other browser hijacker to enter your computer. Our security specialists say that every user should install a reliable antimalware tool because some programs are very sneaky and ordinary users might find it extremely hard to prevent them from entering their systems alone.
In order to remove Clickforms.ru from your computer, you, first of all, need to fix the shortcuts of browsers. Secondly, you need to remove files that belong to this browser hijacker one by one. If you find the process too difficult, use the manual removal instructions (see below). If Clickforms.ru has not left your browsers alone, scan your computer with an automatic malware remover. It will take care of it.
Delete Clickforms.ru
Fix shortcuts
Right-click on the shortcut of your browser.
Select Properties.
Open the Shortcut tab.
Delete the line http://n.clickforms.ru/c/1a30e417c259f275? from the Target line and click Apply.
Click OK.
Remove files
Press Win+E simultaneously.
Enter %Homedrive% in the URL bar and tap Enter.
Locate firefox.bat and iexplore.bat files and remove them.
Enter %PROGRAMFILES% (or %PROGRAMFILES(x86)%) in the address bar.
Delete the chrome.bat file.
Empty the Recycle bin.
In non-techie terms:
Even though you have erased Clickforms.ru from your system, this browser hijacker might not be the only threat. In most cases, users do not know that they have other infections installed because they work behind a user's back. Do not worry; there is a way to find those threats. All you need to do is to scan the system with a diagnostic scanner which you can easily download from our website. Of course, you can try to detect them yourself too, but you should know that it will not be easy to detect malware.