Do you know what Click.Sureonlinefind.com is?
Click.Sureonlinefind.com is regarded as a browser hijacker as to this website you will be redirected if the system of your computer gets affected by some unwanted application. In other sources, you may encounter the term redirect virus which means that some application modifies the settings of the Windows hosts file and the browsers in order to drive traffic to a particular website.
If you have recently downloaded a free application from an insecure website or simply browsed some unreliable websites, it is likely that they are the culprit of the situation you are in. It is very important to be sure that the program that you are going to install is reliable, not to mention that it is crucial to read the information provided in the installation wizard as you may accidentally agree to install a browser toolbar or add-on.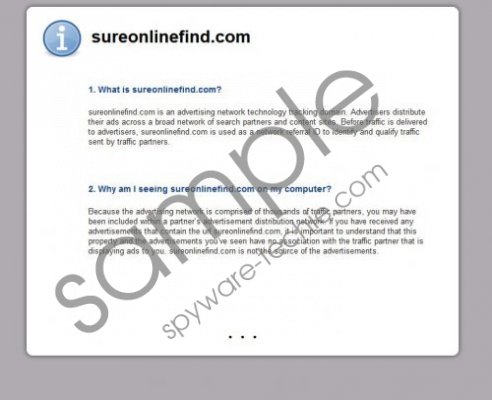 Click.Sureonlinefind.com screenshot
Scroll down for full removal instructions
Nevertheless, we recommend that you do not delay the removal of Click.Sureonlinefind.com as it may be utilized for monitoring your browsing sessions. For example, it may record what you are interested in, how much time you spend on particular websites, what advertisements you click, and so on. If you do not want third-party companies to use the information for marketing purposes, you should react once you find that you cannot use your Internet Explorer, Mozilla Firefox or Google Chrome properly.
Automatic removal is by far the most effective method for removing unwanted applications or computer threats, which is why we recommend that you use the spyware removal tool SpyHunter. Without a doubt, this anti-spyware program will fight various computer infections off, so do not wait and install our recommended software.
However, if you want to try deleting Click.Sureonlinefind.com manually, below you will find step-by-step instructions which will help you alter the Windows hosts file and change the proxy settings. If you encounter any difficulties, do not hesitate and leave a comment below.
Click.Sureonlinefind.com removal
How to alter the Windows hosts file
Open the Start menu.
Right-click Notepad.
Click Run as Administrator.
Open (My) Computer.
Follow the path C:\Windows\system32\drivers\etc and double-click the hosts file.
Select Notepad.
Make sure that the bottom line is 127.0.0.1 localhost or ::1.
How to restore default proxy settings
Internet Explorer
Open the browser and press Alt+T.
Click Internet Options.
Under the Connections tab, click the LAN settings button.
In the Proxy server section, uncheck the box and click OK.
Mozilla Firefox
Open the browser.
Press Alt+T.
Click Options.
Open the Network tab and click Settings.
Select the Manual proxy configuration option and enter the information that is required.
Click OK.
Google Chrome
Open the browser.
Press Alt+F.
Click Settings.
Scroll down and select the Show advanced settings option.
Under Network, click Change proxy settings.
Open the Connections tab and click the LAN settings button.
Uncheck the box given under the heading Proxy Settings.
Edit your browsers
Internet Explorer
Press Alt+T.
Click Internet Options.
Under the Advanced tab, click Reset.
Select the box given and click Reset.
Mozilla Firefox
Press Alt+H and click Troubleshooting Information.
Click Reset Firefox.
When a new window appears, click Reset Firefox and click Finish.
Google Chrome
Press Alt+F.
Point the cursor to Tools and click Extensions.
Remove the unfamiliar add-ons.
Click Settings.
Go to the On startup and click the preferred option.
Click Set pages.
In the Search section, click Manage search engine and change the search provider.
In non-techie terms:
Click.Sureonlinefind.com is a browser hijacker which will redirect you to the webpage which is not related to your interests. Once the redirection sessions are noticed, the unwanted threat has to be removed from the PC either manually or automatically using a spyware removal tool.
Aliases: Click.Sureonlinefind virus.