Do you know what Clean PC Master is?
Clean PC Master has proven to be an unreliable and quite suspicious application; according to our researchers who have classified this software as a potentially unwanted program (PUP) after careful testing in our internal lab. Do not be misled by the word "potentially" to think that it is all fine to leave this PUP on your computer. As a matter of fact, there is not one positive thing we can mention with regard to this application. Our researchers have found this PUP totally useless and unreliable; what's more, its presence may also indicate malware infections on board. Therefore, we advise you to remove Clean PC Master, and if you want to make sure that your PC is safe, you should also run a malware scanner to see if there are any other threats present. Please continue reading our article to learn more about this annoying infection.
The first suspicious sign about the reliability of this application is that you cannot actually find any official website that promotes this PUP or where you could download its installer. Our researchers say that they did find a website where an executable file is available (softtonicllc.com), but even there you cannot directly access this file through the website. As a matter of fact, this is a blog about driving and car safety, so it is quite likely that it is not an official vendor's site. If this is not enough, it only gets worse when you hear how this PUP is actually distributed on the Internet.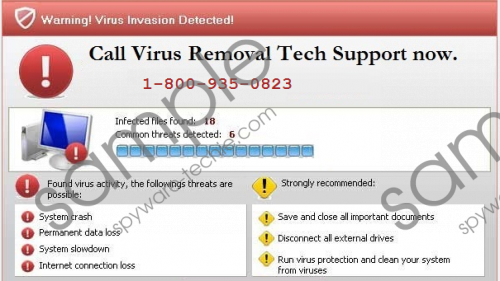 Clean PC Master screenshot
Scroll down for full removal instructions
According to our researchers, this application can infiltrate your operating system even without your knowledge and uses rather questionable methods to do so. For example, it is possible that you click on misleading pop-ups that try to trick you into clicking for Adobe Flash or Java updates. This PUP may also travel bundled with malicious software installers. If this software is on your system, it may mean that you have visited unreliable websites lately. It is possible that you were looking for a free application and you clicked on a search result link that took you to an unsafe website. This is how a lot of inexperienced computer users infect their computers. It is easy to click on unreliable content (banners and pop-up ads) when you are on an unfamiliar website in the hope of being able to download your desired new free tool. Therefore, we advise you to stay away from such file-sharing websites and refrain from clicking on pop-ups and any type of third-party ads as well.
This questionable software was found to come from the same team who created, for example, One10 PC Cleaner. And that is not the only one, too. It seems that these creators come out with a new variation of PC cleaners from time to time, which does not mean in this case that these programs are getting any better or more reliable for that matter. In all fairness, this application may really clean all the junk temporary files from your computer – that is true. But its function seems to stop right there. Although this software seemingly offers anti-malware protection as well, every time you want to click on the buy button, this PUP crashes. It seems that his software tends to scare users with blue screens of death and other false error messages as well in an endeavor to make them call a provided telephone number (1-800-935-0823).
This is supposed to be a technical support number; however, it is quite likely that this is just another scam like we have seen so many times in connection with similar PC optimizer programs. We do not recommend that you contact these potential schemers because you may get a huge phone bill next time it is due. But it is also possible that you will be lured into buying some worthless software. The worst that might happen is that you disclose personally identifiable information to criminals. We hope that you understand now why we believe that you should delete Clean PC Master from your system.
If you have got to this point, it is likely that you are ready to act. We do not recommend that you use the uninstaller of this PUP because it appears to leave leftovers, such as the fake error messages. Of course, if you want, you can locate it in the list of installed programs in Control Panel. But, even if you run the uninstaller, we advise you to go through our manual instructions as well to make sure that all the components are gone. Keep in mind that there are certain risks when it comes to editing the registry. Please use our guide if you are more experienced. If, however, you would prefer an automated solution, we suggest that you download and install a decent anti-malware application to eliminate all the infections present and to safeguard your PC as well.
Remove Clean PC Master from Windows
Tap Win+Q and enter regedit. Press the Enter key.
Find Clean_PC_Master, windu, winmasexe value names in HKEY_CURRENT_USER\Software\Microsoft\Windows\CurrentVersion\Run and remove them.
Find HKEY_CURRENT_USER\Software\Microsoft\Windows\CurrentVersion\Uninstall\Clean PC Master registry key and delete it.
Close the editor.
Tap Win+E to launch the File Explorer.
Find and remove the following directories:
%LOCALAPPDATA%\winmas
%UserProfile%\Local Settings\Application Data\winmas
%LOCALAPPDATA%\Clean_PC_Master
%UserProfile%\Local Settings\Application Data\Clean_PC_Master
%LOCALAPPDATA%\Clean_PC_MasterUn
%UserProfile%\Local Settings\Application Data\Clean_PC_MasterUn
Empty your Recycle Bin.
Reboot your system.
In non-techie terms:
Clean PC Master is a questionable PC cleaner application that is supposed to be a useful tool to optimize and protect your computer. Unfortunately, this potentially unwanted program may indirectly cause certain system security issues. This PUP can sneak onto your operating system without your noticing it and start up with Windows every time you switch on or restart your computer. This unreliable software can appear on your PC in rather suspicious ways that may also facilitate the entry of malicious programs. That is why we think that you should first remove Clean PC Master and second, scan your computer to identify all other threats that need to be dealt with as well.