Do you know what Citypage.today is?
There is a reason Citypage.today has appeared on your Google Chrome browser. You might see it set as your New Tab URL, homepage, and default search tool because you have installed the add-on called City Page Today Home Page directly from the Chrome Web Store (https://chrome.google.com/webstore/detail/city-page-today-home-page/omjifaanlgiocfonnjlengeomjfhgklg?hl=en). Also, this piece of software could have been installed on your computer without your knowledge. Since it can show up on systems out of the blue, it is sometimes referred to as a browser hijacker. If you are sure you have not set Citypage.today on your browser yourself, the chances are high that the browser extension promoting this page has been installed on your computer without your consent. In such a case, you should remove it without hesitation. It is not a harmful malicious application, so you should not find its removal complicated. Of course, we still recommend reading this report till the very end before you go to delete it.
As you already know, the City Page Today Home Page extension sets Citypage.today on Google Chrome the second it is installed on users' browsers. This page looks like an ordinary search tool with some quick-access buttons at the bottom. Also, users are allowed to customize it by setting background they like. Some people find it quite beneficial and decide to keep the extension and the page set, but our specialists still have one recommendation for them – they need to be cautious, they say. According to them, users should be especially careful when performing web searches using the search tool located on Citypage.today because it redirects all searches to bing.com. It is not a bad search provider, but it might still present users with some modified search results. The so-called modified search results look exactly like decent search results, but they simply promote certain third-party pages. Because of this, we do not think that you will find any information you are searching for on them. This is the first symptom that you have clicked on the modified search result. You should try to avoid all those search results because, in the worst-case scenario, they might open dubious pages for you.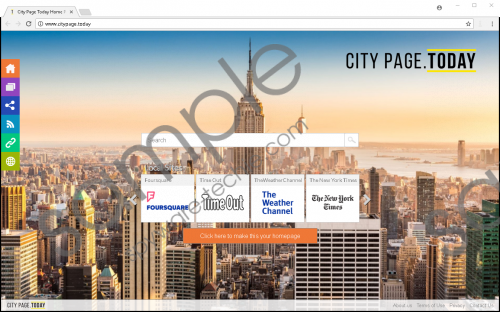 Citypage.today screenshot
Scroll down for full removal instructions
What else you should know if you keep the extension promoting Citypage.today active on your computer is that it collects certain details about users, their activities, and their interests. Specifically speaking, it records IP address, default language setting, browser type, operating system, and search queries. Also, its developer might receive information about software you download from the Internet. It is up to you whether to allow it to perform this activity on your computer or not. If you decide to put an end to this activity, you will have to disable the browser extension.
Even though City Page Today Home Page can be downloaded by users willingly from the Chrome Web Store, specialists say that it might also be installed on users' computers without their knowledge. Specifically speaking, it might be spread bundled with third-party applications, which proves again that it is not fully reliable. Browser hijackers are not the only ones that are spread bundled. More dangerous threats might arrive on your computer bundled too, so you should be more careful from now on. You should first stop downloading software from dubious pages. Second, it would be smart to install a security application on the system so that it could recognize malware and prevent it from entering your system for you.
You can remove Citypage.today at any time if you are not happy about its presence on your Google Chrome browser. To make it gone from your browser, you will need to delete the City Page Today Home Page extension. It is nothing more than an ordinary browser extension, so its removal should not be complicated at all. Of course, if you are not very experienced, you should use our step-by-step removal guide which you can find placed below this report.
How to delete Citypage.today
Google Chrome
Open Google Chrome.
Press Alt+T.
Click More Tools.
Click Extensions.
Select City Page Today Home Page and click the trash button.
Click Remove in the confirmation window.
In non-techie terms:
Citypage.today is a page that is set on users' Google Chrome browsers after they install the City Page Today Home Page extension on their computers. This page has an appearance of an ordinary search tool, but the truth is that it is not a fully trustworthy search engine – it might present users with the modified search results and, on top of that, it automatically records all search queries entered and some other details. Finally, Citypage.today is often called a browser hijacker because it has been observed that it can show up on users' browsers out of the blue.