Do you know what ChromoSearch.com is?
If ChromoSearch.com greets you when you want to run a web search in your Google Chrome browser, it is a clear sign that there could be malicious programs on your computer. This risky search engine can usually appear in your browser after you install some questionable browser extensions or freeware bundles. This can easily mean that your system is already swarming with malware programs, which presents serious threat to your virtual security and your privacy as well. Since this search engine may introduce you to potentially unreliable third-party ads and links through its modified search results, we believe that you should not hesitate to remove ChromoSearch.com and all other threats from your system if you want to end this invasion once and for all.
When it comes to questionable search engines, it is always important to realize how it is possible to infect your system with them. This is the only way for you to manually protect your computer from similar attacks. Another option is that you install a professional malware removal application that can safeguard your system from any known threat. The most likely way for you to let such an infection on board is to install a questionable browser extension or a freeware bundle that may contain adware apps, browser hijackers, and, of course, this search engine as well. This can happen by clicking on unreliable third-party advertisements, for example. But it is also possible that you click on the wrong search result provided by a questionable search engine like this one. We hope you are beginning to see why we think you should delete ChromoSearch.com as soon as possible.
You can be exposed to unreliable third-party content when your system is not fully clean. This means that there could be a number of threats hiding on your computer, including adware programs and browser hijackers. These can display unsafe ads and links while you are browsing the web. Another option is to find yourself on a questionable website that promotes a lot of shady third-party ads and other disguised contents. Even if you would not use such source normally to download or install applications or any other free files from, it is possible that you land on such a page after running a web search. These websites are usually associated with file sharing, gaming, and pornography. If you ever end up on a website that is filled with flashing third-party ads, such as banners and pop-ups, you should close your browser window right away and run a malware scanner to make sure that no infections have dropped onto your system. Of course, first of all, you should delete ChromoSearch.com as it is one infection that you actually know now.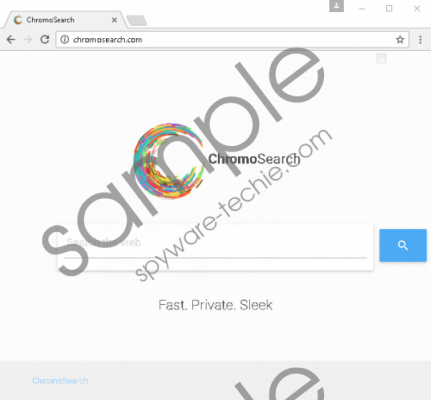 ChromoSearch.com screenshot
Scroll down for full removal instructions
This search engine looks like any other that resembles Google a bit. You may not even realize that you are not using your regular search engine when you run a web search. The main problem with this infection is that it may collect information about your online activities to put together a profile on you so that you could be presented with targeted advertisements and sponsored links that suit your preferences and liking. However, cyber criminals may be able to use this search engine as a platform to spread their corrupt links to lure victims to their malicious websites. In other words, you may think that you find yourself on a reliable and legitimate search results page, but, in reality, you could click on dangerous ads and links that would redirect you to malicious websites or directly drop an infection onto your system. When you load websites that are run by criminals, it is also possible that you get scammed in all kinds of ways and you could lose money as well as important data. If you want to feel safe while using your computer, we suggest that you remove ChromoSearch.com right now.
Our researchers say that you can simply get rid of this search engine if you reset your browser. You may not have done this before; therefore, we have included instructions for you below. In order to protect your PC from similar or even more dangerous malware threats, we recommend that you keep all your programs and drivers updated at all times. Also, try to avoid questionable websites and clicking on suspicious contents. However, the best way to defend your computer against attacks is to use a proper anti-malware application.
Remove ChromoSearch.com from your browser
Google Chrome
Tap Alt+F and select Settings.
Click Show advanced settings at the bottom.
Click Reset settings at the bottom.
Click Reset in the pop-up.
In non-techie terms:
ChromoSearch.com is a useless search engine that may show up in your Google Chrome browser after you install a browser extension or any other freeware bundle. Our researchers have found that this infection is mainly distributed in the USA. Since this malware can come on board with other malicious software installers, its presence can indicate multiple system security threats. This can severely affect your computer's vulnerability to cyber attacks. This search engine may also provide you unreliable search results. Therefore, there is no question about it that you need to remove ChromoSearch.com if you want to save yourself from more serious security issues. If you are looking for the best way to defend your PC, we suggest that you install a trustworthy anti-malware program.