Do you know what Chromesearch.win is?
Were you redirected to Chromesearch.win randomly? Maybe you are facing this browser hijacker every time you launch your web browser? In either case, whether you have encountered the threat by accident or it has corrupted your browser, you need to stay away. Obviously, in the first case, all you need to do is close the page and then clear the browsing data. In the second scenario, you need to delete the threat. According to our research team, this browser hijacker – which, by the way, was created in Russia – might be compatible with all kinds of browsers, including the most popular ones, Google Chrome, Mozilla Firefox, and Internet Explorer. You can find how to remove Chromesearch.win from these browsers, and if you need our help eliminating this threat from a different one, please add a comment below so that we could assist you as soon as possible.
It is hard to say how exactly Chromesearch.win spreads. You could be redirected to it as you interact with other unreliable search tools or as you click on corrupted links found online. On the other hand, if this search tool has taken over your homepage, default search provider, or new tab, the chances are that a malicious file responsible for the changes got in. In some cases, hijackers are bundled along with extensions and applications in a transparent manner. In other cases, these threats can be slipped in without any authorization. Overall, whether or not you were introduced to Chromesearch.win before its installation, it is best if you deleted this hijacker. One more thing to note is that the URL of this hijacker could be different, and numbers from 1 to 20 could be attached to the domain name. The interface of the threat, however, is unlikely to change because of that.
The interface of Chromesearch.win does not raise many questions because it looks similar to many other well-known and respected search providers. At the top of the home page, you can find "+Me," "Gmail," "Images," and "Video" links. If you click them, you are routed to plus.google.com/discover, google.com/gmail/about/#, images.google.com/, and google.com/videohp respectably. As you can see, all of them represent Google services. At the bottom of the home page, you can find links to "Privacy" and "Terms" statements representing the hijacker. The information provided via these statements is very generic, and it is hard to understand how exactly Chromesearch.win works. All in all, it all becomes clear as you type in keywords into the search field in the middle of the hijacker's homepage, as you are automatically redirected to Google Search, which is considered illegal activity. If that was not enough, the results are likely to be modified, and so interacting with them could be dangerous. Needless to say, this is the most important reason to delete the hijacker ASAP.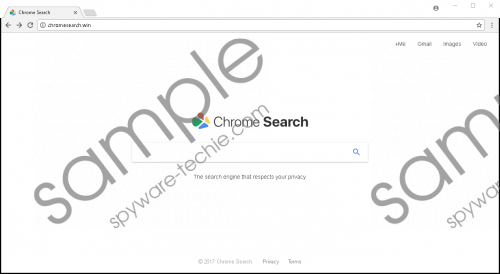 Chromesearch.win screenshot
Scroll down for full removal instructions
As mentioned previously, if you were redirected to Chromesearch.win randomly, and it has not happened again since then, you might be able to get away with clearing browsing data. If this hijacker has corrupted your browser, we recommend resetting the affected browser and then clearing leftover browsing data. You should also check scheduled tasks to see if any unfamiliar items exist. If they do, remove them immediately. While you can delete Chromesearch.win, it is not the easiest of tasks, and if other threats exist, you might have to dedicate a lot of your time just to clean your system. You can save your time by employing an anti-malware program that can automatically erase all threats at once. You should be particularly interested in this if you also need the protection this program can provide you with.
Remove Chromesearch.win
Google Chrome
Open the browser, tap keys Alt+F, and select Settings.
Scroll to the bottom, click Advanced, and then scroll down again.
Click Reset and confirm your choice.
Move to Privacy and security menu above and click Clear browsing data.
Choose the time range and the data you want to clear and click CLEAR BROWSING DATA.
Mozilla Firefox
Open the browser, tap keys Alt+H, and click Troubleshooting information.
Click Refresh Firefox and then confirm your choice.
Click Ctrl+Shift+Delete to access the Clear All History menu.
Choose the time range and the data you want to clear and click Clear Now.
Internet Explorer
Open the browser, tap keys Alt+T, and select Internet options.
Click the Advanced tab and then click the Reset button.
Select Delete personal settings and then click Reset again. Exit Internet Options.
Click Ctrl+Shift+Delete to access the Delete Browsing History menu.
Check the data you want to clear and click Delete.
Scheduled Tasks
Launch Windows Explorer by tapping Win+E keys at the same time.
Type %WINDIR%\System32\Tasks into the bar at the top and tap Enter.
Look for unfamiliar tasks (you can check them by name and date) and Delete any unwanted ones.
In non-techie terms:
Chromesearch.win is a browser hijacker that cannot offer you reliable search services. First of all, it redirects you to Google Search without running it by you first, and that is a bad sign. Second of all, it can modify the results shown to you via this reputable search provider to make you interact with potentially useless or misleading links without even realizing it. Without a doubt, it is best to delete Chromesearch.win from your browser. The guide above shows how to reset the browser and clear browsing history to ensure that the threat is eliminated. If you are not ready for manual removal, and if you care about your virtual security in the future, install an anti-malware program right away.