Do you know what Chipopo is?
Chipopo is a new browser extension for Google Chrome which has been released by the developers of Baboom, an application known as adware. Chipopo itself is far from an ad-supported program, but, unfortunately, it is not a piece of software that can be called fully reliable too. In fact, it has been classified as a potentially unwanted program (PUP) by our experienced researchers. It has been given this label mainly because of the distribution method used to spread it, but some users are also not very happy when they realize that the installation of Chipopo is directly associated with the appearance of a new default search provider search.chipopo.info. If, for any reason, you find Chipopo useless, annoying, or simply do not remember downloading and installing it willingly on your PC, it would be smart of you to go to delete this piece of software. If this extension has been installed because you needed to get access to the collection of Wallpapers, we are sure you will find a similar, but more trustworthy, application to replace Chipopo with.
On the basis of the information provided in the Chrome Web Store, Chipopo should allow users to access thousands of Wallpapers in HD quality for free. It is said there that these Wallpapers are easy to "view and easy to set." On top of that, users are told that they could share their favorite Wallpapers with friends via Twitter, email, Facebook, MMS, etc. with the click of a button. Since Chipopo seems to be an extremely beneficial program, it is not at all surprising that a number of users have already installed this browser extension from its main source chrome.google.com/webstore/detail/mefgljidkdaapgnfgkoffgodejejpnkf. Actually, it might be true that some people have also downloaded it from a different source too, so the exact number of people using Chipopo cannot be determined. To be frank, many users do not find this piece of software useful. It turns out quickly that it does not even allow users to quickly change their Wallpapers. The only activity it performs is changing users' default search providers immediately after the successful installation. Search.chipopo.info set by Chipopo looks like a decent search tool. It returns Google search results and works well, so it cannot be called an untrustworthy search provider by any means. You can use it but promise not to click on ads if they ever appear on the search results page opened by search.chipopo.info. This might be a dangerous activity since a redirection to a malicious third-party website might happen.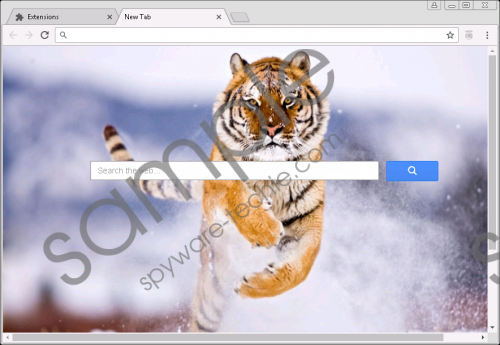 Chipopo screenshot
Scroll down for full removal instructions
If you are reading this report from the beginning, you should already know that one of the reasons Chipopo is classified as a potentially unwanted program is the suspicious distribution method used to disseminate it. This piece of software can be downloaded from the Chrome Web store, but we are talking about another method here. It has been found that this extension might also be spread through bundled malicious installers and malicious pop-ups. In most cases, it travels together with other applications, so users usually do not even notice that they agree with the installation of Chipopo. In the case of these malicious pop-ups distributing this potentially unwanted program, they usually appear on dubious third-party websites, so users see them when browsing the web, or they might be shown by an adware program which is installed on the computer and actively do its job. An automatic installation of Chipopo begins when a user clicks on such a malicious pop-up, so not all the users are aware of its installation too. If you are reading this article because you have not installed Chipopo willingly, the best you can do now is to delete it. It will not bother you again if you get rid of it.
Chipopo can be deleted fully by removing its extension and then changing the default search engine back to the preferred search tool. The quickest way to do that is to reset Google Chrome to its default settings. Do you need some help with that? If the answer is positive, our specialists suggest using the step-by-step instructions they have prepared. Scroll down to find them.
Delete Chipopo
Google Chrome
Open Google Chrome.
Press Alt+F.
Click Settings.
Go to the bottom of the page.
Locate Show advanced settings and select it.
Click Reset settings.
Click Reset.
In non-techie terms:
There are thousands of potentially unwanted applications on the web, so the possibility to encounter these programs is not so small, especially if a user surfs the web every day and tends to download free applications from file-sharing websites. These programs cannot be called malicious by any means, but they might still act in an undesirable way or simply appear on the computer without permission. Therefore, users should go to install a security application on their systems to protect their PCs from undesirable software in the future.