Do you know what Chedot?
From the very outset it must be said that Chedot falls into the category of potentially unwanted programs. You might want to remove it, but it is not obligatory. This program is not just any piece of software — it is a web browser and it is based on the Chromium platform developed by Google. Even visually you will have a hard time noticing the differences between Chrome and Chedot. However, we recommend choosing Chrome over this unreliable browser, because its default search engine is set to display commercial advertisements. Chedot is not a malicious program per se, but it is untrustworthy due to the content it is bound to promote. If you have this program, then you probably got in unintentionally, because it comes bundled with malicious installers.
Indeed, our researchers have found that Chedot is often bundled with malicious software installers that start attacking users with installation wizards that are secretly downloaded by a service left by a prior infection. Note that this browser is not installed automatically. The service only launches the installation wizard, but it needs your input to install the browser. This kind of tactic is not very common. In most cases, it such bundles are featured on websites that host pirated software downloads. In addition, you can download its standalone installer from Landing.chedot.com and from its regionally localized sister websites that are in Arabic and Russian. For the time being, all we know is that its developer's name is Guerrilla Programming, but we have yet to find any additional information about this developer and, more importantly, its prior product releases.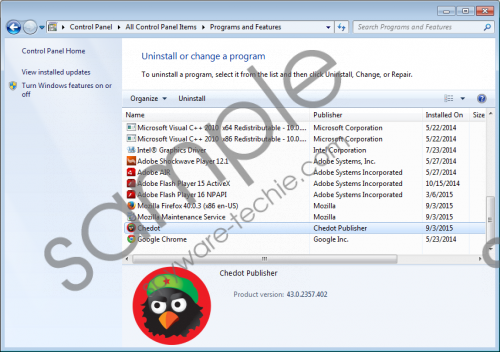 Chedot screenshot
Scroll down for full removal instructions
Chedot looks and works exactly like Google Chrome, but it has one disadvantage that you should not give a free pass. This browser comes with its own custom search engine called Search.chedot.com. We do not recommend using this search engine, because it might display customized search results that feature sponsored links and other advertisements that may promote unreliable websites. Search.chedot.com is most likely using Google to do all of its searches for it. So Chedot has nothing that Chrome cannot offer and the latter browser is much more reliable, because it does not come bundled with malicious installers and Google.com's search results are as reliable as they can be. So you might want to shift from using Chedot to Google Chrome.
Unfortunately, browsers such as this one are pretty common since Google launched its Chromium project. Securor Browser and Mustang Browser are just two more recent examples of Chromium-based browsers that have been deemed as potentially unwanted programs. Both of them have their own specific disadvantaged that make them undesirable. The bottom line is that developers want to make easy money from their software and online advertisements is one of them.
So if you are a user of this particular browser, then you might want to reconsider your browser choice, because this one in no better than Chrome. On the contrary, Chedot is probably one of the worst browsers you can get, because it has been tampered with by unknown entities. If you want to remove this browser, but you do not know how, then feel free to consult the removal instructions provided below. This program is not bad, but it does not do anything good either and you will be better of getting a new browser.
How to get rid of Chedot
Windows 8/8.1 and Windows 10
Right-click on the Start Screen.
Go to Programs and Features.
Locate the unwanted browser and click Uninstall.
Windows Vista and Windows 7
Click Start and go to Control Panel.
Go to Programs.
Click Programs and Features.
Locate the undesirable browser and click Uninstall.
Windows XP
Click Start and go to Control Panel.
Go to Add or Remove programs.
Locate the browser and click Remove.
In non-techie terms:
Chedot is a browser that falls into the category of potentially unwanted programs. It is a cheap rip off of Google Chrome. It is based on Google's Chromium platform, and all would be well if it was not for the unreliable search engine that it set by default. This search engine may show unreliable search results and commercial advertisements and promotions. Good browsers do not engage in such activities. So you should get a reliable browser and remove Chedot.