Do you know what Cheapncheap is?
Cheapncheap is an adware application, so it means that it collects data on your web browsing habits. Cheapncheap needs this information in order to display commercial advertisements that are tailored to your likes at preferences. At first glance, it may seem as those Cheapncheap ads are there to help you find your favorite goods at a lower price. However, that is not the case because the program is more concerned about making money than providing you with useful information. You have to remove Cheapncheap from your system if you want to avoid serious security problems.
You most probably installed Cheapncheap accidentally when you downloaded some program from a third-party website. The application does not seem to have a working homepage, but we can tell it is very similar to TopDeal, DealPlug, PlusTotal, and a number of other semi-random name adware applications based on JustPlugIt engine. Just like its predecessors, Cheapncheap clearly makes use of Vittalia, Amonetize and Installrex installers to travel around the Internet. Your job right here is to avoid clicking download buttons on file sharing and torrents websites. If it's a fake download button, it is very likely that you will initiate a freeware download, and Cheapncheap will be one of those programs.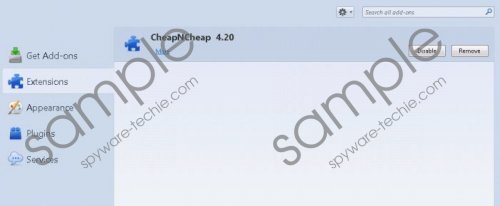 Cheapncheap screenshot
Scroll down for full removal instructions
Some people may also think that Cheapncheap is a useful application because it displays commercial ads only on popular shopping websites like Amazon, eBay, BestBuy, and others. So it makes an impression that Cheapncheap is really there to help you find out more about the latest sales and discount offers. Nevertheless, like all the other previously released adware applications, Cheapncheap is not responsible for the ad content security. We have to consider that the application is highly vulnerable to a third-party exploitation, and if cyber criminals decide to make use of it for their evil deeds, it's how it's going to be.
Hence, whenever you find an adware application installed on your PC, open Control Panel and check whether you can uninstall it manually. If so, delete the application at once and then look for other potential threats. In the case of Cheapncheap, you can easily terminate the app via Control panel. The extension on Internet Explorer will disappear automatically, but you will have to delete it from Mozilla Firefox and Google Chrome yourself.
It is not a complicated thing to do, and we also provide manual removal instructions below this description. If you need any assistance with Cheapncheap removal, do not hesitate to ask us by leaving a comment. Finally, do not forget to invest in a licensed antispyware tool.
How to delete Cheapncheap
Windows 8
Drag mouse cursor to the bottom right of the screen.
Click Settings on Charm bar and go to Control panel.
Open Uninstall a program and remove Cheapncheap.
Windows Vista & Windows 7
Open Start menu and click Control Panel.
Go to Uninstall a program and remove Cheapncheap.
Windows XP
Click Start menu and navigate to Control Panel.
Select Add or remove programs and uninstall Cheapncheap.
Remove Cheapncheap from browser
Mozilla Firefox
Press Ctrl+Shift+A and Add-ons manager tab will open.
Disable and remove Cheapncheap from Extensions.
Restart browser.
Google Chrome
Press Alt+F and click Settings.
Click Extensions on the left and remove Cheapncheap.
In non-techie terms:
Cheapncheap is a program that can lead to serious computer security issues. It may not be a direct infection, but you have to remove Cheapncheap from your system if you want to avoid third-party exploitation and malware infection.