Do you know what ChatClap is?
There are a ton of suspicious applications roaming the web nowadays. One such program is known as ChatClap. If you ever come across claims that it is an excellent tool that you should have on your PC to chat with your friends online in an easy manner, make sure not to get fooled by these clever marketing gimmicks. In reality, this piece of questionable software is one more adware application that will make your overall online experience a miserable one, to say the least. If that was not enough, we have found out that at times this ad-supported program could expose your operating system to dubious web content. To avoid such instances you need to delete this invasive application as soon as you discover it running on your operating system. In this article, we provide further information about the questionable functionality of ChatClap and a removal guide that will help you terminate it in the easiest way possible.
If you suspect ChatClap being active on your PC, you can spot it rather quickly. The primary indication that this program is fully active on your computer is a web browser filled with a large number of commercial web content. In most cases, such content manifests itself as various pop-ups, coupons, and ads. The fact is that none of them are useful. The adware program in question can present all such content due to the background system service that it starts once it enters your computer. The background service is used to connect to adware servers, which are the primary providers of all the ads, coupons, and pop-ups. All of this happens without the user's realization. If you think that simply ending the invasive service will stop the intrusive activity within your web browser, you must know that it will simply restart itself and the disruptions will continue. Depending on the time of the day or your location, you will be presented with different amount of unwanted content. The adware functions in a rather random way; thus, there is no way to determine when your web browser could get flooded with so many of unwanted ads, pop-ups, and coupons that surfing the web might become virtually impossible. To regain the full functionality of your web browser, you need to execute a complete removal of this ad-supported program without any second thoughts.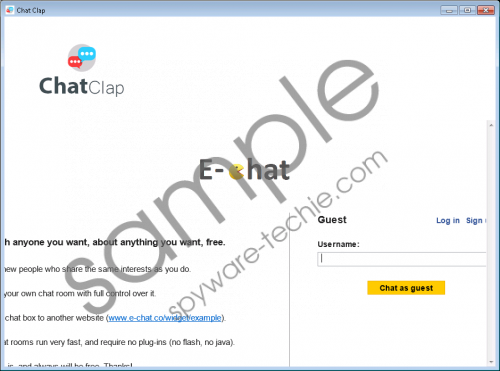 ChatClap screenshot
Scroll down for full removal instructions
While annoyance and frustration are the most prominent features that ChatClap exhibits, there is something much more rather dangerous about this adware. The alarming activity is not a visible one; therefore, a non-advanced computer user might not even realize what is behind all the ads, pop-ups, and coupons. At times, you might be presented with an advert or a pop-up that could turn out to be implemented with a redirect link. This is a dangerous instance that you can find yourself in if you have this ad-supported program active on your computer. This is so because you could get redirect to suspicious sites; some of them might even host malware within them. It goes without saying, that landing on such a website in most cases results in a system infection. Thus, if you have found ChatClap running on your PC, make sure to surf the web very carefully, until you have executed its complete removal. Running this adware on your computer is a risk that no user should take as the outcomes could turn out to be devastating, to say the least.
In the majority of cases deleting ChatClap is not that complicated because you can terminate the intrusive adware program via Control Panel. It is important not to miss any steps while executing such removal procedure as a single mistake could mean that the adware was not removed completely. To be on a safe side, we advise you to check the %APPDATA% and %PROGRAMFILES%, for potential leftovers associated with ChatClap. Also, you should analyze the Windows registry system, especially keys and values linked to your web browser. After conducting an analysis for potential leftovers, you will be sure that the invasive ad-supported program was terminated successfully.
How to delete ChatClap from your computer
Windows 10
Right-click the Windows button.
Select Control Panel.
Click Uninstall a program.
Locate and select the unwanted program.
Click the Uninstall button.
Windows 8 and 8.1
Right-click your Task Bar.
Select Control Panel.
Click Uninstall a program.
Double-click the ChatClap.
Confirm that you want to remove it.
Windows 7
Click the Windows button and select Control Panel.
Click Uninstall a program.
Select the malicious application.
Click the Uninstall option.
Windows XP
Click Start and select Control Panel.
Select the Add or remove programs option.
Remove the invasive program.
In non-techie terms:
Some users might find the manual removal a bit too difficult. If you are one of those users do not worry since there is an alternative way to get rid of this adware. Follow the instructions that we provide below and you will be able to delete ChatClap in an automatic way. This adware must be removed from your operating system to keep it safe and secure at all times.