Do you know what CharityTools is?
Adware developers work around the clock to develop new marketing tactics. CharityTools poses as a charity tool that works for a noble cause. However, in truth, this program is set to display commercial advertisements on almost every page you visit, so it is quite intrusive. Not only are the ads annoying, but the content they promote can be misleading, because programs such as CharityTools are prone to attract shady entrepreneurs and businesses that can use this program to advertise suspicious content. We will discuss this application is greater detail throughout this short article, so please continue reading.
CharityTools is promoted on a website called Charitytools.org. This website provides a lot of information about its advertising tactics and boasts how effective this software is in order to attract more clients. Charitytools.org is actually a clone of a website called Runad.com, so any information provided about this application on its website may actually be untrue. Our researchers have discovered that CharityTools was created by a software developer called Domain Web Developers LLC. However, we have no additional information about this developer and we think that this developer may have several aliases as most adware developers do these days.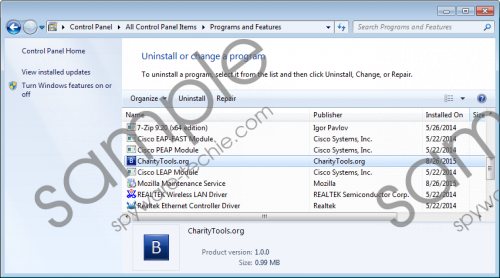 CharityTools screenshot
Scroll down for full removal instructions
Regardless of what is stated on its promotional website, CharityTools is quite an intrusive program. It is set to display third-party advertisements on every webpage you visit. The ads look like three coupons and are always displayed on the very bottom of a page. The developers probably did this so that this program would not appear too annoying. The ads actually promote legitimate companies, such as Amazon, Walmart, Capital One, and so on. However, we think that in some cases it might display misleading ads, because companies like these do not do business with shady online advertisers. And they definitely do not rely on adware programs. Such large companies use website-based ads to promote their products and services.
It must also be mentioned that CharityTools is set to install itself without your consent. Our researchers suggest that this application is most likely bundled with other adware applications and possibly potentially unwanted programs. Freeware websites are the most common places where adware is distributed, so CharityTools should be featured on such websites. We think that bundling is its only distribution method, because it does not have a dedicated website that features it as a standalone program.
This application always comes uninvited, so you probably want to remove it as soon as possible. And this is quite understandable, because it poses as a charity tool but actually displays commercial advertisements of questionable legitimacy. There is no way you can tell whether the ads are real or not, but one thing is clear: Large companies do not promote themselves using intrusive adware, because that damages the company's image. In any case, getting rid of this program is a simple matter of going to the Control Panel and clicking the Uninstall button. After you have done that, you can enjoy ad-free browsing.
Remove CharityTools from your PC
Windows 10
Type Control Panel in the search box located on the Taskbar and open it.
Select Uninstall a program and locate CharityTools among other programs.
Right-click on it and click Uninstall.
Windows 8/8.1
Open the Charm bar.
Click Settings and select Control Panel.
Open Programs and Features.
Find CharityTools and right-click on it, and then click Uninstall.
Windows 7/Vista
Open the Start menu and click Control Panel.
Select Uninstall a program.
Find CharityTools and right-click on it.
Click Uninstall.
Windows XP
Open the Start menu and click Control Panel.
Open Add or Remove Programs.
Find CharityTools.
Click Remove.
In non-techie terms:
CharityTools is an ad-supported application. This application is seriously unreliable, because it is apt to display misleading ads. It displays coupons on the bottom of every website. It appears to promote big companies, such as Walmart and Amazon, but it is not directly linked with them. Therefore, we think that the ads are misleading and might even redirect you to an entirely different page. Therefore, you should remove CharityTools just to be on the safe side.