Do you know what ChaCha Ransomware is?
ChaCha Ransomware does a lot of damage since the malicious application not only encrypts a user's personal files but also enciphers system data. As a result, the infected device's operating system might not work properly. Therefore, there might be nothing left to do but to rewrite Windows. Users who have no backup may want to make copies of personal files even though they are encrypted. Sometimes, cybersecurity specialists manage to develop free decryption tools, so there is always hope one could decrypt his files without having to put up with any demands. As you see, the hackers behind the malware may ask to pay a ransom in exchange for decryption tools, but even if they prove they have them, keep in mind, it still does not guarantee they will give them to you. To learn more about this malicious application, we encourage you to continue reading our report, and if you need any help while deleting ChaCha Ransomware, you should check our removal guide available below.
For starters, you may want to know where malicious applications like ChaCha Ransomware come from. Our computer security specialists say they might be distributed with malicious email attachments, fake setup files or updates, and so on. Meaning, the victim might download and open the malware without even realizing it. To avoid this happening, we recommend keeping away from unreliable file-sharing websites, questionable pop-ups or alerts, and Spam emails. If you ever want to launch data originating from unreliable sources, you should not do so without scanning it with an antimalware tool. Even if the file looks harmless because hackers can easily make malicious installers look like documents, pictures, or other data the victim would not suspect.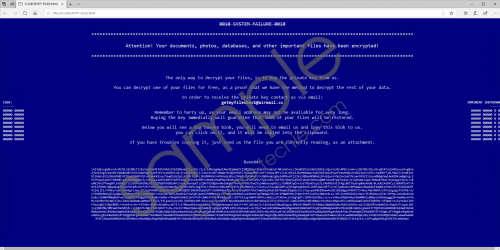 ChaCha Ransomware screenshot
Scroll down for full removal instructions
Nothing may seem to be happening at the moment the user unknowingly launches ChaCha Ransomware, because the application does not encrypt all files right away. It may take some time to encipher the whole data located on a computer. The worst part is that the user may not realize what is going on as the threat works silently in the background. Of course, at some point, programs the victim could be working with might start crashing, which ought to signal something is not right. Also, there is a possibility, you could notice the additional extension, the malicious application adds to encrypted files, appearing on your data. For example, once enciphered by ChaCha Ransomware, a file named panda.jpg ought to become panda.jpg.HiEf4z. In case the user notices what is happening it, he could try to unplug the computer to try to stop the encryption process.
Unfortunately, if the user does not realize what is happening, he might be surprised to see ChaCha Ransomware's message on his computer's screen. The ransom note ought to explain how to contact the hackers behind the malware to learn how to pay a ransom and get decryption tools. At this point, the system might start crashing. Our researchers say it might be possible to surf the Internet or open folders, but that might be all. Thus, if the malware encrypts system data, you should rewrite Windows. Otherwise, if you manage to stop the encryption process and the malware does not encipher system files, you could try to eliminate ChaCha Ransomware with the removal guide available below.
Erase ChaCha Ransomware
Click Windows Key+E.
Navigate to the suggested paths:
%TEMP%
%USERPROFILE%Desktop
%USERPROFILE%Downloads
Identify a file launched at the time the system got infected, right-click the malicious file, and select Delete.
Find this path: %TEMP%
Look for a file called 123456789.bmp, right-click them and select Delete.
Exit File Explorer.
Press Windows Key+R, insert Regedit and choose OK.
Navigate to this path: HKCU\Software\Microsoft\Windows\CurrentVersion\Explorer\Wallpapers
Look for a value name called BackgroundHistoryPath0, right-click it and press Delete.
Go to: HKCU\Control Panel\Desktop
Locate a value name titled Wallpaper, right-click it and choose Delete.
Close the Registry Editor.
Empty Recycle bin.
Restart the computer.
In non-techie terms:
ChaCha Ransomware is a malicious threat that enciphers files on the system and then shows a note demanding to pay for their decryption. Needless to say, there are no reassurances the malware's developers will hold on to their word, which is why we recommend not to put up with any demands if you do not want to risk getting scammed. You could recover your files without decryption tools by replacing them with backup copies if you made any before the computer got infected. Also, there is always a possibility that cybersecurity specialists will manage to create a decryptor for this malicious application. Therefore, if you have no recovery options of your own, you should back up encrypted files and check for decryption tools from time to time. If you decide you do not want to pay a ransom, you should rewrite Windows and the threat ought to get deleted along with other files. The removal guide available above will explain how to eliminate the infection manually, just in case, the malicious application fails to encrypt your system data.