Do you know what Česká Republika Policie virus is?
If this question has popped up in your head, Česká Republika Policie virus probably has already taken over your computer and removed your access to the desktop. This cunning ransomware virus is capable of modifying your Windows Registry, disabling Task Manager access and restricting your access to the entire computer. This is a reliable way for schemers to block you from having Česká Republika Policie virus removed; however, this is not what the operation has been designed for. In reality, the main reason behind the system's locking is the bogus alert that will be presented on top of your screen.
At first, you may think that the alert is completely legitimate, because it seems to be sent by Ústav Počítačové Trestné Činnosti, a governmental agency that helps fight cyber crime. In reality, the department does not have any legal rights to lock down your computer or threaten you about personal data recording via the webcam, which means that its logo is used illegally. The same tricks have been seen on other Ukash viruses (e.g GVU virus), all of which tend to be downloaded into Windows systems by vicious Reveton family trojans. See the fictitious notification below:
Váš počitač byl uzamčen!
Výše pokuty je 2000 KČ. Platba musi být provedena do 48 hodin po objeveni narušeni. Pokud udělená pokuta nebude zaplacena, automaticky bude zahajeno trestné stiháni.
Po zaplaceni pokuty Váš počitač bude odblokován.
Should you pay the requested fine? Absolutely not, because it is fictitious, and even if you wasted your money, there is a great chance that noting would change and you would be asked for even more money. What is more, the PC could be infected with more malicious applications, and that is extremely dangerous to your system's integrity. The only logical move you should make right now is delete Česká Republika Policie virus, and the instructions below will help you do that instantaneously.
Restart the computer using the Safe Mode with Networking.
Download reliable, automatic virus removal tools and install them without postponing the task any longer. If you are considering applying SpyHunter, you can install it by visiting http://www.spyware-techie.com/download-sph.
Restart the computer and keep your security tools updated at all times.
Note that these instructions will not work for Windows XP users, who will need to disable Startup programs before restarting the PC and installing automatic Česká Republika Policie virus removal tools.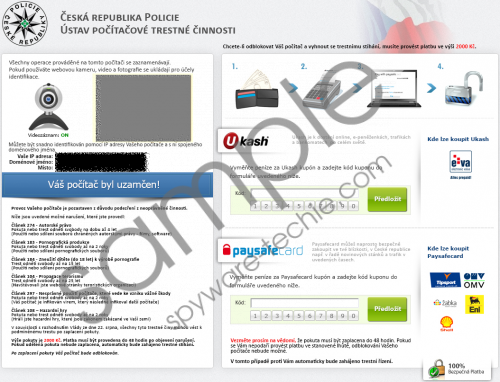 Česká Republika Policie virus screenshot
Scroll down for full removal instructions
In non-techie terms:
Ransomware infections can be used to lure out your money, infect the computer with more malicious infections or even utilize personal accounts to propagate malignant components and steal money. Without a doubt, Česká Republika Policie virus is tremendously malicious, and you should get it removed from the computer as fast as possible.
Aliases: Policie virus.