Do you know what Centrumfr@india.com Ransomware is?
Centrumfr@india.com Ransomware is nothing more than yet another malware that you do not want to find active on your personal computer at any time. Just like any other ransomware application, this one is known to be extremely intrusive and malicious; it can encrypt your personal data in a silent manner without any authorization whatsoever. If, unfortunately, you have found it active on your personal computer do not waste any time and remove it. The rest of our report contains detailed information about the overall functionality of Centrumfr@india.com Ransomware. Also, our research team presents a few virtual security tips that will allow you to keep maintain a fully secure system at all times. We also include removal instructions that will help you get rid of Centrumfr@india.com Ransomware without encountering a lot of trouble.
As soon as Centrumfr@india.com Ransomware enters your personal computer, it will start an encryption procedure without any notification. It is also paramount to inform you that in most cases this malicious procedure is completely silent. The malware in questions is designed this way so unsuspecting users would not be able to detect it. Once your data is locked by this ransomware, you will notice a few .txt files on your desktop; the files are named Help to decrypt.txt and CryptoLocker.txt. Also, every single file that will be affected will receive the . centrumfr@india.com!! extension. Within those .txt files, you will be informed about what has happened: you will be notified that your data has been encrypted using the AES algorithm, as well as you will be presented with an e-mail address which you should contact for a decryption procedure. We highly advise you not to get in touch with the cyber crooks as it could have unwanted and detrimental outcomes since you will be asked to pay for a decryption procedure. Fortunately, it has been noticed that there are some promising free decryption tools that should work. Thus, instead of communicating with malware developers, you have a better chance of regaining your data by using free decryption tools crafted by IT professionals. It should be quite obvious that a complete removal of Centrumfr@india.com Ransomware should not be delayed under any circumstances. In fact, if you happen to delete this malware in a timely manner, you might be able to reduce the data loss that it might cause.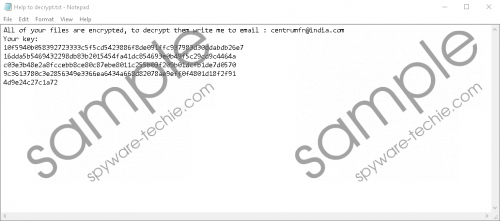 Centrumfr@india.com Ransomware screenshot
Scroll down for full removal instructions
Due to the fact that ransomware programs are quite common nowadays, it is important to have your personal computer fully secured at all times. You can achieve this by taking a few precautionary steps to improve your overall security. It is critical to avoid all devious third-party websites as well as all questionable spam e-mail attachments since Centrumfr@india.com Ransomware and other malicious programs are known to be spread in such a manner. By simply avoiding all suspicious third-party websites and only obtaining attachments that come your way from identifiable senders, you will be able to dramatically reduce the chances of infecting your operating system in such a manner. In addition to practicing safe browsing habits, you need to implement a professional malware detection and removal tool since it provides overall virtual security. Having such a tool is critical since it can automatically identify and remove any potentially dangerous programs form your PC or could even warn you about them before they enter your personal computer. By taking these few preventative steps, you will be able to make your operating system virtually unbreakable.
The complete removal of Centrumfr@india.com Ransomware is the only way that you will be able to stop its malicious functionality and will reestablish virtual security on your PC. Follow the removal guide that we provide below carefully since a missed steps could result in an incomplete removal, which in consequence could have unwanted and in some instances detrimental outcomes. In some situations, a few leftovers linked to Centrumfr@india.com Ransomware could be used to silently restore it. To avoid this, you need to execute a thorough analysis of your personal computer for traces of this malware; this way you will be sure that the removal procedure was successful.
How to remove Centrumfr@india.com Ransomware from your personal computer
Open your File Explorer.
Go to C:\Users\<your username>\Downloads.
Select and delete a malicious .exe file inserted by this malware. Keep in mind that the mane of this file is randomized.
Go to your desktop and remove files called Help to decrypt.txt and CryptoLocker.txt.
In non-techie terms:
It is important to note that in some cases users might find the removal procedure as well as analysis of their PC too complicated. If this is the case, do not worry. Malware experts at Spyware-Techie.com have crafted an alternative removal guide that will help you delete Centrumfr@india.com Ransomware in an automatic manner.