Do you know what Celeb Wham is?
Celeb Wham is an application that should allow users to test their knowledge of favorite celebrities, shows, movies, and more. In other words, it promises to enable people to take various online quizzes. Many users believe that taking online quizzes is a real fun; however, they do not know that Celeb Wham, which provides quizzes for them, is not the most trustworthy application. Yes, it might open quizzes, but it will also display commercial advertisements on a user's screen because it is known to be an ad-supported (adware) application. Adware programs should not be kept installed on the system because they display annoying commercials that might not allow users to surf the Internet freely. In addition, it is very likely that adware will cause harm to the system during the time. Users who want to make sure that this does not happen to them should erase Celeb Wham from the system as soon as possible.
We are sure that you like taking quizzes if you have downloaded and installed Celeb Wham consciously; however, we suggest that you stop doing that until you delete this adware and find another application instead of it. As you already know, our team of specialists suggests doing that because everybody knows that this software is going to show commercials. The program does not try to hide this information; however, the majority of users do not notice this piece of information or simply ignore it:
There is no charge to take our quizzes. However, you may be presented with third party advertising offers that do require a paid subscription or other charge. Please be sure and read the terms and conditions for all third party offers carefully. This site's quizzes are open to US residents age 13 and up. By completing the quiz and submitting your personal information, you are agreeing that this information may be shared with third parties.
As you can see, Celeb Wham is really going to show advertisements. On top of that, it might collect information about users and then send it to third parties. In case of personal information, it is going to gather your name, surname, email address, and even location. Unfortunately, it gathers non-personally identifiable information as well. It has been observed that it is primarily interested in the so-called anonymous user data. The application needs this information in order to find out more about users' interests and preferences. Unfortunately, this also means that you might experience problems associated with your privacy because the owner of Celeb Wham claims that it "may also share your data with interested third parties." As you already know, the only solution for users who want to ensure the safety of their systems and their privacy is to delete Celeb Wham completely.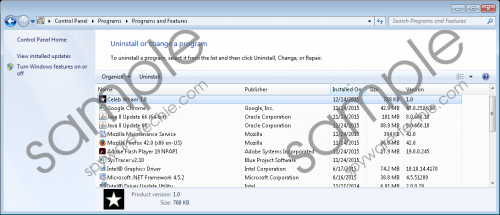 Celeb Wham screenshot
Scroll down for full removal instructions
Celeb Wham is available for download on its official website celebwham.com; however, it might find other ways to sneak onto computers. Specialists have managed to find out that this advertising-supported application might also travel together with other applications (e.g. freeware and shareware). As adware usually travels in software bundles, users might not even notice when it sneaks onto their computers. Of course, they notice ads, a new folder in %PROGRAMFILES% (%PROGRAMFILES(x86)%), and a new shortcut on the Desktop. This indicates that Celeb Wham is installed.
Advertising-supported applications are not very dangerous infections, so it is not so hard to delete them from the system. In case of Celeb Wham, this piece of software can be erased rather easily as well because it has an uninstaller Celeb Wham 1.0 in Control Panel. We are sure that there are users who have never tried erasing an adware program themselves. Therefore, we have prepared the manual removal instructions (see below) and suggest that they use them. In case you want to delete this program more quickly and get rid of all the additional threats that might be hiding on the system, you need to scan your computer with SpyHunter. The free version of this antimalware scanner can be downloaded from our web page. It is capable of detecting all the existing threats.
Delete Celeb Wham manually
Windows XP
Click on the Start button.
Click Control Panel and click Add or Remove Programs.
Select the undesirable software and click Remove.
Windows 7 and Vista
Open the Start menu.
Click Control Panel.
Click Uninstall a program.
Right-click on Celeb Wham.
Uninstall it.
Windows 8/8.1/10
Launch RUN (tap the Windows key + R).
Enter Control Panel and click OK.
Click Uninstall a program.
Find and Uninstall an adware program.
In non-techie terms:
If you have deleted Celeb Wham in a manual way, there is a slight possibility that other untrustworthy programs are installed on your PC too because adware might travel in software bundles together with additional software. The quickest way to make sure that they are gone is to perform the system scan with an automatic malware remover.