Do you know what CCord SystemLocker is?
CCord SystemLocker is a malicious infection that expects you to pay a lot of money to unlock your computer. Unlike most of the recent ransomware infections, this one does not encrypt your files. Instead, it says that it will delete your files if you refuse to pay the ransom or if you try to unlock your computer with the wrong key. You can be sure that this program will not destroy your files, so you can focus on removing CCord SystemLocker from your system right now. Please note that manual removal might be quite hard, so do not hesitate to ask for assistance is necessary.
Perhaps the most frustrating thing about this infection is that it is hard to pinpoint its distribution vector. Thus, we have to take into consideration all the possible means of distribution and inform you about it. Even though CCord SystemLocker is not an encrypting ransomware program, it may still use the most common ransomware distribution method, and that is the spam email.
Here you might think that spam email should go straight to the Junk box, and it should never land in your mail inbox. However, there are a lot of spam email campaigns out there that are quite sophisticated. These days, spam emails that spread malware often look like legitimate notifications from reliable companies and other legal entities. For instance, a spam email message that distributes CCord SystemLocker could look like an online shopping invoice or some important MS Word document. So when you download that fake file and open it, you launch the installation, and the malicious program enters your computer.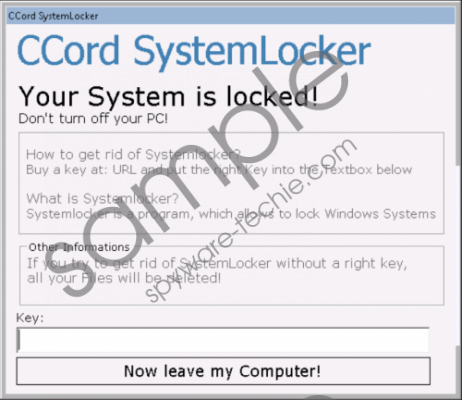 CCord SystemLocker screenshot
Scroll down for full removal instructions
Aside from the spam email, CCord SystemLocker might also be installed accidentally via drive-by downloads when you surf the web. Also, it is possible that the program may come in software packages that are available at file-sharing websites. That is why computer security experts always maintain how important it is to download programs from their official sources. File-sharing websites could be full of dangerous security threats, especially if you are not careful when you set up new programs.
When this program enters a target system, it can give a pretty big scare for users because it kills the Windows Explorer process, and so the taskbar disappears from the bottom of your screen. As a result, CCord SystemLocker does not allow you to access your most commonly-used programs. There is no information on whether this infection blocks the CMD or Run prompts, but no user would ever want to be stuck with using these prompts forever. Not to mention that CCord SystemLocker also blocks the Task Manager, and through this, the program tries to remain on your system for as long as possible.
What's more, the ransomware will also create a point of execution in the Run key in your registry so that the program would auto-start together with your system. So if you thought that restarting your system could help you in this situation, you should forget about it.
On the other hand, if you are willing to proceed with the manual removal instructions, you will have to restart your PC to load it in Safe Mode with Networking. Safe Mode or Safe Mode with Networking is necessary to bypass the screen lock. And from there, it should be just smooth sailing because all you have to do is remove several malicious files that are associated with CCord SystemLocker.
If you do not know which files you have to remove, you can use Safe Mode with Networking to access a security website and download an antispyware tool. For instance, you could run a full system scan with the SpyHunter free scanner. The scan will indicate the location of all the malicious files, and it will help you remove them.
According to our research team, sometimes you might be able to avoid loading your system in Safe Mode. In certain cases, the code cracked:cracked works, and it allows users to unlock their screens. The code is supposed to be entered into the Key box. However, quite a few users refrain from using the cracked code out of fear that their files could be deleted. If you are worried about that as well, you are free to continue with the manual removal via Safe Mode with Networking.
How to Remove CCord SystemLocker
Load Safe Mode with Networking on Windows 10
Press the Start button and select Power.
Press and hold the Shift key and click Restart.
Navigate to Troubleshoot and press Advanced options.
Select Startup Settings and click Restart.
Press F5 to choose Safe Mode with Networking.
Load Safe Mode with Networking on Windows 8.1
Press Win+C and open Settings.
Press Power, hold down the Shift key and click Reset.
Open Troubleshoot and go to Advanced options.
Click Startup Settings and press Restart.
Click F5 to load Safe Mode with Networking.
Load Safe Mode with Networking on Windows Vista, Windows 7, & Windows XP
Restart your PC and press F8 several times.
Choose Safe Mode with Networking and hit Enter.
On Windows XP, click Yes when the confirmation box appears.
Log into your account.
Remove CCord SystemLocker in Safe Mode with Networking
Press Win+R and the Run prompt will open.
Type regedit into the Open box and click OK.
Open HKEY_CURRENT_USER\Software\Microsoft\Windows\Current Version\Policies\System.
Right-click and remove the DisableTaskMgr value on the right pane.
Open HKEY_CURRENT_USER\Software\Microsoft\Windows\Current Version\Run.
Delete the CSL value on the right pane.
Close Registry Editor and press Win+R once more.
Remove suspicious files from the following directories:
%UserProfile%\Desktop
%UserProfile%\Downloads
%TEMP%
In non-techie terms:
CCord SystemLocker is an extremely annoying infection that locks your screen and demands that you pay for the key. Instead of doing what these criminals want you to do, you should remove CCord SystemLocker from your computer right now. If you are not sure you could do it on your own, you can always ask for professional assistance. Please do not forget that you should always consider acquiring a powerful security application that would help you remove similar intruders in the future.