Do you know what Cassiopesa Search is?
Cassiopesa Search is an unreliable search tool that shows sponsored ads and interjects promotional content into the search results provided to you. Worst part is that it can do that without your permission after taking over your Chrome, Firefox, and Internet Explorer browsers illegally. As you might know, search tools that can corrupt your browsers illegally are known as browser hijackers. Even though there are several different reasons to delete Cassiopesa Search, in reality, it should be enough to know that this threat can enter your operating system illegally. If you still need more information about this hijacker and why you should remove it, continue reading this report.
If you are tricked into installing Cassiopesa Search yourself, you might not see anything wrong with this search tool up until you encounter sponsored links and advertisements. However, if this search tool replaces your regular search results without permission, you should be able to tell that this is a program that requires immediate removal. In either case – whether or not you install it willingly – it is most likely that Cassiopesa Search will come packaged with unreliable programs. Our research has revealed that this browser hijacker could come bundled with adware, malicious tracking cookies, potentially unwanted programs, and other software that any user would need to delete from their PC. Even if this hijacker does not enter your PC with malware, it is likely that you will encounter a Chromium browser representing Cassiopesa Search. This browser is likely to be set as the default browser without your permission, which is why it is recommended that you remove it as well.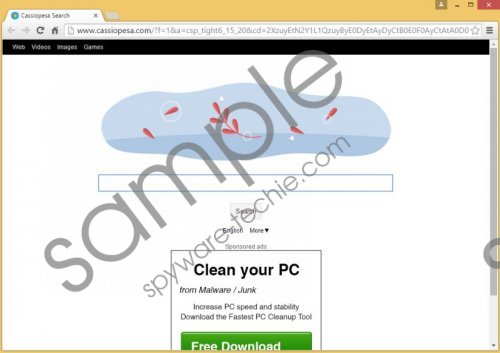 Cassiopesa Search screenshot
Scroll down for full removal instructions
Just like the home pages of Dregol, Astromenda, Binkiland, and other browser hijackers identical to Cassiopesa Search, www.cassiopesa.com will show advertisements. You do not even need to enter search keywords to encounter ads suggesting the installation of unfamiliar and potentially malicious software. If you are smart, you will stay away from the ads at all times. If you have already downloaded software introduced to you via Cassiopesa Search, scan your operating system and find out if you need to delete malware from your PC. If you find that you need to delete malware or undesirable programs, we strongly advise using a malware remover that can clean your operating system automatically.
If you choose to follow the manual removal guide to delete Cassiopesa Search, make sure that you scan your PC and look for leftovers. If they exist, you have to remove them as well.
Delete Chromium browser
Delete from Windows XP
Open the Start menu and click Control Panel.
Double-click Add or Remove Programs.
Click and Remove the undesirable program.
Delete from Windows Vista and Windows 7
Click the Windows/Start logo on the Taskbar.
Open Control Panel and go to Uninstall a program.
Right-click the app you want to remove and select Uninstall.
Delete from Windows 8 and Windows 8.1
Click the Search icon on the Charm bar.
Find and launch Uninstall a program.
Right-click the app you want to remove and select Uninstall.
Remove Cassiopesa Search
Remove from Mozilla Firefox
Launch Firefox and simultaneously tap Alt+T.
Select Options and move to the General menu.
Edit/delete the Home Page URL.
Move to the Search menu and Remove the undesirable search tool.
Remove from Google Chrome
Launch Chrome and simultaneously tap Alt+F.
Select Settings and navigate to On Startup.
Mark Open a specific page or set of pages and click Set pages.
Edit/delete the URL of the undesirable search tool and click OK.
Navigate to Appearance and mark Show Home button.
Click Change and repeat step 4.
Navigate to Search and click Manage search engines…
Set a new search provider and remove (click X on the URL) the unwanted one.
Remove from Internet Explorer
Launch Firefox and simultaneously tap Alt+T.
Select Internet options and click the General tab.
Edit/delete the Home Page URL and click OK.
Tap Alt+T again and select Manage Add-ons.
Select Search Providers and set a new search provider.
Remove the undesirable search provider and click Close.
In non-techie terms:
It is a must to remove Cassiopesa Search regardless of whether you installed it yourself or it was installed without your permission. This unreliable search tool is used for unreliable advertising, and it cannot offer authentic web search services. It is best to remove Cassiopesa Search and all other unreliable programs using a legitimate security tool that would also protect your PC in the future. However, if you decide to delete this hijacker manually, the guide above will help you.