Do you know what Cassiopesa.com is?
Cassiopesa.com is a malicious browser hijacker that changes your browser settings without your permission. It is very likely that you install Cassiopesa.com on your system accidentally together with some freeware application from a third-party file hosting website. You must remove Cassiopesa.com as soon possible because aside from being excruciatingly annoying, this browser hijacker might also cause particular computer security issues one cannot ignore. Luckily, it is not hard to delete Cassiopesa.com on your own, so you should take care of this matter before the situation goes out of hand.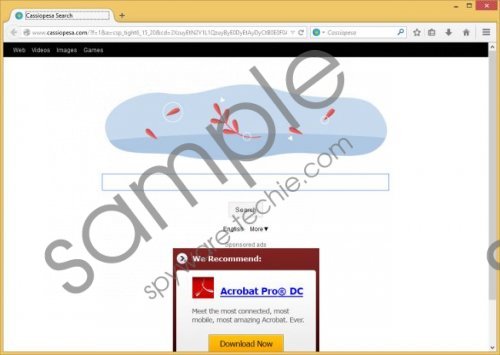 Cassiopesa.com screenshot
Scroll down for full removal instructions
Our research lab team says that Cassiopesa.com is completely identical to Astromenda, Taplika, Dregol, Vosteran, and Binkiland hijackers. This means that Cassiopesa.com exhibits the same infection symptoms as its predecessors, and we can deal with this infection just like with all the other browser hijackers that have been released previously. The most important thing is not to enter anything into the Cassiopesa.com search box. This hijacker changes your default homepage and search engine in order to track your online activity. All the information collected during the tracking period will be later on used to generate customized commercial ads.
Cassiopesa.com does not need to steal your money directly. In that aspect, browser hijackers are not as dangerous as Trojans, ransomware or rogue antispyware applications. The people behind Cassiopesa.com make money through the pay-per-click system when the hijacker redirects you to affiliated websites. You increase their traffic, and the hijackers developers get paid for the each click you make. That sounds like a good business plan, especially as the hijacker does not really try to infect you with malware. However, the problem is that Cassiopesa.com also does not check whether the third-party content it promotes is safe.
Therefore, browser hijackers are perfect tools for malware distribution, and if cyber criminals decide to make use of Cassiopesa.com, you would soon be exposed to outgoing links that lead to malware-related websites. It is only a matter of time when you would end up infected with Trojans, and your financial information stolen.
Do not allow this to happen. Remove Cassiopesa.com at once and scan your system with a legitimate antispyware tool. Since this browser hijacker gets distributed in freeware bundles, you definitely have more potential threats installed on your PC. Terminate all the unwanted applications as soon as possible and get yourself a reliable computer security tool that would protect your system in the future.
Manual Cassiopesa.com Removal
Windows 8 & Windows 8.1
Drag the mouse cursor to the bottom right of the screen.
Click Settings on the Charm bar and go to Control panel.
Open Uninstall a program and remove the potential threats.
Windows Vista & Windows 7
Click the Start menu button and select Control Panel.
Go to Uninstall a program and remove the potential threats.
Windows XP
Open the Start menu and navigate to Control Panel.
Select Add or remove programs and uninstall the potential threats.
Delete Cassiopesa.com from Your Browser
Internet Explorer
Press Alt+T and go to Internet options.
Change your homepage address under General tab. Press OK.
Press Alt+T and select Manage add-ons.
Click Search providers on the left.
Set a new default search engine and remove Cassiopesa.com.
Mozilla Firefox
Click the search engine icon on the search box (top right corner).
Select Change search settings on the drop-down menu.
Remove Cassiopesa.com from the list and set a new default search engine.
Click OK and press Alt+T. Click Options.
Change your homepage under General tab and click OK.
Press Alt+T and go to Add-ons.
Disable and remove unwanted plug-ins from Extensions.
Restart your browser.
Google Chrome
Press Alt+F and open Settings.
Mark Open a specific page or set of pages under On Startup.
Click Set pages and change your startup page address. Click OK.
Press the Manage search engines button under Search.
Set a new default search engine, delete Cassiopesa.com and click Done.
In non-techie terms:
Cassiopesa.com is a serious computer infection that breaches your privacy and exposes you to far more dangerous threats. You need to remove Cassiopesa.com along with other potentially unwanted programs that might be running on your system. For an alternative software removal method, you can always check out the additional set of instructions below this description.