Do you know what Cashu Virus is?
Cashu Virus is a ransomware infection which may lock the screen of your personal computer and remove any administrative privileges. How did this treacherous application enter your PC? When talking about spyware proliferation methods, it is a must to state that the ransomware is initiated by the Urausy Trojan. This clandestine program can use bundled downloads, adware, spam email attachments and social engineering scams to access your operating Windows system. The clandestine application then can take over the Windows Registry and lock down the computer. Once you notice this illicit activity – perform Cashu Virus removal without waiting another minute.
The sinister Cashu Virus comes from the same group of infections as POLITIE Belgique Police Fédérale Virus, Policía Nacional de Uruguay Virus and Pulizija ta' Malta Virus; however, it is distinctively different. First of all, the ransomware uses CashU money transfer system to collect the ransom which is presented as a legal fine. According to the version of the virus which has paralyzed your PC, you could be asked to pay fines in Euro, USD, UAE dirham, Lebanese pounds, Saudi riyal and other currencies. Note that Cashu Virus removal may become an issue if you live in the regions of North Africa and Middle East, including United Arab Emirates, Palestine, Saudi Arabia or Lebanon. Overall, you should beware of any authentic-looking logos and names attached to the screen-locking notification. If this happens, check the text. If it is claimed that you are involved in the distribution of pornographic content, spam email or pirated files, rush to delete the clandestine infection from the computer.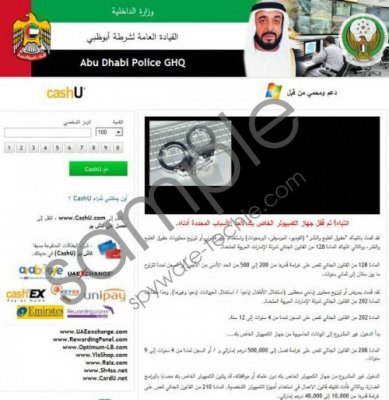 Cashu Virus screenshot
Scroll down for full removal instructions
If you wish to remove Cashu Virus from the system using manual removal procedures, it is important that you understand how complicated this task is. If you are not experienced, you could delete the wrong files and keep the malignant ones running. If you do not want to jeopardize the system further, we recommend installing automatic removal software.
How to remove Cashu Virus?
Delete from Windows 8:
Tap the Windows key to access the Metro UI starts screen.
Open the Charm Bar (move the cursor to the bottom right corner) and click Settings.
Select Change PC Settings and click General.
Go to Advanced Startup and click Start now.
Click Troubleshoot and then Advanced Options.
Select Startup Settings, click Restart and wait for the menu to show up again.
Tap F5 to reboot into Safe Mode with Networking.
After the PC loads up, go to http://www.spyware-techie.com/download-sph .
Download and install the automatic spyware detection and removal tool SpyHunter.
Delete from Windows Vista and Windows 7:
Restart the PC.
As soon as BIOS loads up – start tapping F8.
Use arrow keys to select Safe Mode with Networking and tap Enter.
Download SpyHunter.
Install the application, scan the PC and delete found infections.
Delete from Windows XP:
Repeat steps 1-3 from the removal instructions dedicated to Windows Vista/7 users.
Click Yes on the Desktop alert.
Download the automatic spyware removal tool SpyHunter.
Open the Start menu, launch RUN, enter msconfig and click OK.
Click on the Startup tab and un-check all entries. Click OK.
Restart the computer in a normal manner.
Install the application and use it to remove existing infections.
In non-techie terms:
You will not be able to use the computer normally until you delete Cashu Virus. The task may seem difficult because of the initiated lock-down. Nevertheless, you can use the instructions presented above to unlock the PC and remove the ransomware. Do you have more problems? Post your questions in the comment box below and we will help you as soon as possible.
Aliases: CashuVirus.