Do you know what CareerPronto is?
CareerPronto is an obvious adware application that must have entered your computer accidentally. There is a possibility that you installed this program willingly, but we do not believe that most of the users who complain about this application have downloaded it from the official source. In fact, it is far more likely that users want to remove CareerPronto because they have no idea how this application ended up on their computers. In this article, we explain about the program, and we also offer the way to get rid of it. Please scroll down to the bottom of this description for the removal instructions.
When you look at the name of this application, you probably get the idea that the program is there to assist users in looking for a job. The official website for this application says that with the program, you can "Find Your Dream Job" by searching "thousands of jobs in your area." All you have to do is to download and install the application. Apart from the program itself, you may also encounter several third-party ads on the site. For example, "Available Jobs," "Jobs Vacancies," "Jobs Listings," "Job Postings," as so on. In the era of high unemployment rate, these types of ads may seem alluring, but you should know better than to click them.
CareerPronto and other similar programs do not review the third-party ads they display. Therefore, the application may provide space for third-party advertising that might be hogged by cyber criminals. Usually, clicking on such ads redirects you to commercial websites that either require you to sign up for something or buy something. Either way, you would end up giving away some of your private information to people you do not even know. It might not be much of a problem if these people were only focused on advertising. However, in some cases, they might share your information with yet another third party and then it would not be surprising if your data were used for illegal financial operations.
From this, it might seem that CareerPronto is a malicious application that enters your computer without your permission, but that is also not quite true. Even if you did not download the app from its official website, it still does not mean that you got infected with it. This adware application is similar to NewsCert, Moneyzila, and other potentially unwanted programs. Thus, it means that it employs similar distribution methods as well. That would include bundled software that is available for download from file-sharing websites.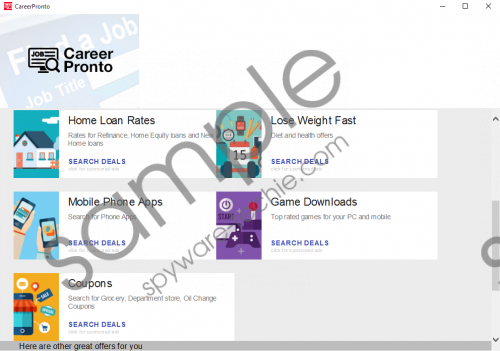 CareerPronto screenshot
Scroll down for full removal instructions
The program is not region-specific, so it may enter your system no matter where you are based. Depending on the site you download the software bundle from, CareerPronto may come with Search Know, Sweet-page.com, MyPCBackup, and so on. Most of these programs are known for security experts because they terrorize unsuspecting computer users quite often.
The most important thing you have to understand about this issue is that you need to employ safe web browsing skills so avoid similar intruders. Since this adware app is not a malicious infection, you can choose whether you want it installed on your PC or not. Consequently, being attentive during freeware installation is crucial, as you might install more than just the one application you want. For all its worth, you may end up with a list of programs that slow down your computer, spam you with annoying ads, and expose you to potential security threats.
CareerPronto is obviously one of them. Fortunately, you can remove this application via Control Panel without much difficulty. While you are at it, make sure you terminate other unwanted applications as well.
Should you need a list of the programs you need to delete, scan your PC with the SpyHunter free scanner. Once the scan is complete, the program will provide you with the results list that will indicate all the potential threats that need to be taken care of. If you think that you cannot terminate these programs yourself, invest in a reliable antispyware application that will do the job for you. It is not a one-time investment because the security program of your choice would protect your computer from other adware invasions in the future.
How to Remove CareerPronto
Windows 10 & Windows 8.1
Press Win+R and the Run prompt will open.
Type Control Panel into the Open box and click OK.
Go to Uninstall a program and remove the unwanted application.
Windows Vista & Windows 7
Open the Start menu and click Control Panel.
Select Uninstall a program and remove the unwanted application.
Windows XP
Click the Start button and navigate to Control Panel.
Open Add or remove programs and uninstall the adware application.
In non-techie terms:
Some users may not understand what is dangerous about CareerPronto, but this program could be easily exploited by cyber criminals to distribute malicious content or redirect users to malware-related web pages. That is one of the few reasons you should remove CareerPronto and all the other related applications from your system immediately. Should you encounter any problem while trying to get rid of the unwanted programs, be sure to contact us by leaving a comment below.