Do you know what Capricornus is?
If you have noticed annoying banner ads, pop-up ads, and coupons labeled as "ads by Capricornus" or something similar, it is quite likely that your computer has been infiltrated by an intrusive adware application called Capricornus. This is a nasty malware infection that takes some extra rounds to remove. If you keep this adware active on your system, you may be introduced to more and more unreliable third-party ads and web content. You might even end up on malicious websites. This adware is a threat to your privacy and your virtual security. We will, of course, share with you in details how you can delete Capricornus from your operating system, but first, let us tell you how it can harm your computer.
Obviously, the name of this adware is rather misleading, and the application has nothing to do with constellations and horoscopes. But you can easily find out what it may be for real if you run a quick web search on this application. That is what we urge you to do every time you are about to download and install a new tool or software. Most of the time you will see from the first results page if you are dealing with a reliable program or not. However, with this name you will obviously find a number of results that have something to do with astronomy or astrology. But, if you care to check the second or third pages, you will already see that there is something shady about this application since you will find more and more articles on why you should remove Capricornus. This could be great help when deciding about downloading an app.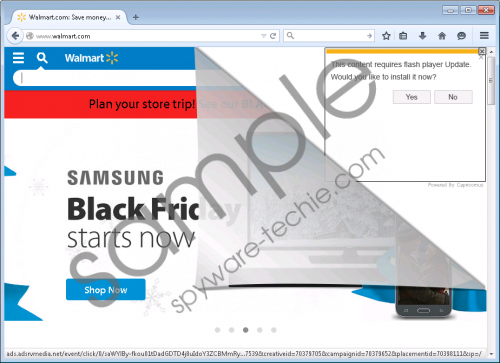 Capricornus screenshot
Scroll down for full removal instructions
But it is also important where you download it from. Inexperienced users can be tricked into clicking on infected buttons when they land on unfamiliar and unreliable shareware sites. And that is exactly how most people get infected with malware. Since this adware does not seem to have an official page, you cannot know too much about it. But there is one thing you may infer from this: Capricornus may use freeware bundles to travel and spread. This distribution method is rather questionable because one bundle may contain several malware programs. It is quite possible that you have other adware applications, browser hijackers, and potentially unwanted programs on your system if you find Capricornus ads in your browsers. But if you have visited some questionable sites, even worse and more dangerous malware infections, such as Trojans and Rootkits, may also be on board. That is why it is essential that you run a full system malware scan right after you delete Capricornus.
According to our researchers, this adware is very similar to Jabuticaba and Daugava, which we have already covered. The problem with Capricornus is that it may display unreliable third-party ads, which may be risky to click on. You may think that you can get rid of the threat by simply closing the pop-up windows or trying to avoid clicking on the banner ads or other types of commercials. But, what if this adware is able to show you relevant ads, ones that you would be interested in to check? Since Capricornus can gather data about you from your browsing history and possibly through web cookies or other technologies, it is possible that, after some time, you will see such advertisements and it will be hard to resist them, too. Most online scams start with a single click on the wrong ad. If you do not want to land on malicious websites and get scammed, you should delete Capricornus right away.
As a matter of fact, it is quite complicated to eliminate this threat. Our researchers have found that this adware does not use browser extensions to display ads. Instead, it changes your DNS settings by replacing one of your system files called dnsapi.dll in order to connect to remote adware servers. So first, you need to uninstall the application via Control Panel. Second, you need to restore your DNS settings. Finally, you need to restore your dnsapi.dll file. All this may sound Greek to you, but, if you follow our step-by-step guide carefully, you should be able to do this even if you are not an expert. Nevertheless, if you would feel safer to use an automated solution, we suggest that you download and install a trustworthy antimalware program. Not only will that software detect and remove all the known threats from your PC, but it will also provide you full-time protection if you keep it up-to-date.
How to remove Capricornus from Windows
Windows XP
Press the Start button and choose Control Panel.
Pick Add or Remove Programs.
Click on the undesirable application and click Remove.
Windows Vista/Windows 7
Access the Start menu and select Control Panel.
Select Uninstall a program.
Click on the unwanted application and click Uninstall.
Windows 8/Windows 8.1/Windows 10
Tap Win+X and choose Programs and Features.
Click on the undesirable application and click Uninstall.
How to restore your DNS settings
Windows XP
Press Start and navigate to Control Panel.
Open Network Connections.
Right-click on the active connection and select Properties.
Select Internet Protocol on the Local Area Connection Properties panel.
Press Properties and select "Obtain DNS server address automatically".
Click OK.
Windows Vista/ Windows 7
Open the Start menu and pick Control Panel.
Access Network and Internet.
Choose Network and Sharing Center.
Click on your connection type.
Press Properties and select Internet Protocol Version 4 (TCP/IPv4).
Press Properties and mark "Obtain DNS Server address automatically".
Click OK and click OK again.
Windows 8/Windows 8.1/Windows 10
Tap Win+X and select Control Panel.
Select Network and Internet and access Network and Sharing Center.
Click on the active connection next to Connections.
On the pop-up window, click Properties.
Choose Internet Protocol Version 4 (TCP/IPv4) in the item list box and press Properties.
Mark the "Obtain DNS server address automatically" option and press OK.
Click OK.
How to restore dnsapi.dll
Press Win+R and type in cmd to open the command window.
Type in "sfc /scanfile=C:\Windows\system32\dnsapi.dll" and hit Enter.
If you have a 64-bit system, also type in "sfc /scanfile=C:\Windows\syswow64\dnsapi.dll" and hit Enter.
Close the window.
In non-techie terms:
Capricornus is a hard to remove malware threat that can display potentially harmful third-party advertisements. This adware application can arrive in a freeware bundle packed with a number of malware infections. Therefore, its presence can mean multiple system security threats. We recommend that you remove Capricornus ASAP and identify all other threats. Leaving any malware on your computer could endanger your virtual security. If you want to restore order on your PC, you need to tackle these threats without hesitation. That is why we suggest that you use a professional antimalware application.