Do you know what CalendarSpark is?
Although CalendarSpark is somewhat similar to EasyPhotoEdit Toolbar and other suspicious toolbars created by Mindspark Interactive Network Inc., it is unique. First of all, it does not use a toolbar to present its services. Instead, it occupies the new tab feature on your browsers to present links, as well as a search provider. This provider is another thing that makes this program different because most Mindspark toolbars are associated with Ask Search while this program provides search.myway.com. You are wrong if you think that this search tool is reliable, and you can learn more about this by reading further. Our research team has tested both the suspicious application and the search tool that comes packaged with it, and, if you are interested in removing them, you should continue reading. We recommend learning more before deleting CalendarSpark because the knowledge gained might be useful in the future.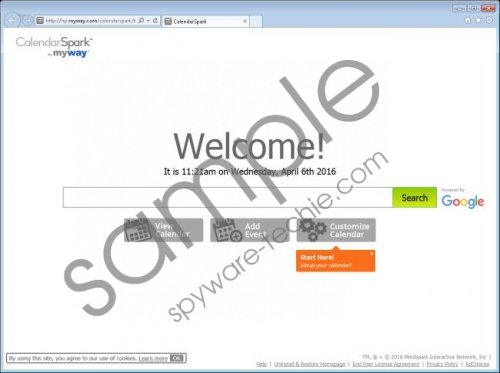 CalendarSpark screenshot
Scroll down for full removal instructions
The distribution of CalendarSpark is quite unpredictable. This program can be downloaded from its official site, free.calendarspark.com, and Chrome users can download it from the Chrome web store. This program could also be downloaded onto your computer along with third-party installers. Did you know that some software installers are created by malicious parties to spread malicious infections? These installers could attach CalendarSpark to much more dangerous programs and Windows infections, which is why you have to be extremely cautious when interacting with software bundles. The most important step in the distribution of this program is the attraction of users. In order to convince you to install this program, you will be made to believe that it is truly helpful. Although you might be intrigued by the Easy-To-Use Calendar Tools that this program promotes, are you sure you need to install software to access a calendar? Of course, the choice is yours, but we advise installing software that you will have use for.
CalendarSpark changes the homepage and the New Tab on Internet Explorer and Mozilla Firefox. It only modifies the New Tab on Google Chrome. In any case, this program promotes search.myway.com, a search tool that collects information about you and shows ads instead of useful search results. As you might know, this search tool also belongs to Mindspark, which is why both the search tool and the extension follow the same privacy policies. One of the statements discloses that information collected by spying on you can be used by Mindspark and third parties to show advertisements. Did you install this software expecting to see ads? Of course, you did not, and you should remove this program right away if you do not want to be exposed to suspicious third-party ads. Do you how why they might be dangerous? Some parties simply cannot be trusted, and the ads they might introduce you to could open security backdoors and route you to malicious websites, promote fake deals, or introduce unreliable installers.
You do not need to be experienced to eliminate CalendarSpark from your computer and browsers. All you need is a little bit of knowledge and a few moments. Follow the instructions below and run a malware scanner immediately after. The last thing you want to do is ignore other potentially active threats that a malware scanner can detect momentarily. If these threats exist, we suggest using automated malware removal software to erase them. Of course, implementing reliable, full-time security software is imperative as well, which is why we recommend installing anti-malware software as soon as possible.
Delete CalendarSpark from PC and browsers
Windows 10/Windows 8
Launch RUN (simultaneously tap Win+R) and enter Control Panel.
Open the Programs (or Programs and Features) menu and click Uninstall a program.
Right-click the program you wish to eliminate from your computer and click Uninstall.
Windows 7/Windows Vista
Open the Start menu from the Taskbar (click the Windows logo) and click Control Panel.
Navigate to Programs/Programs and Features and select Uninstall a program.
Right-click the program you want to erase from your PC and select Uninstall.
Windows XP
Navigate to the left side of the Taskbar and click the Start menu icon.
Open the Control Panel menu and double-click Add or Remove Programs.
Remove the undesirable application.
N.B. Uninstalling works for IE, but Firefox and Chrome browsers need to be cleaned individually.
Mozilla Firefox
Simultaneously tap Ctrl+Shift+A to access the Add-ons Manager.
Open the Extensions menu and Remove the unwanted extension.
Tap Alt+T (Tools menu) and select Options.
In the General menu apply the desired Home Page URL.
Google Chrome
Simultaneously tap Alt+F to access the Chrome menu.
Click More tools and select Extensions to access the chrome://extensions/ menu.
Identify the unwanted extension, click the trash bin, and choose Remove.
In non-techie terms:
CalendarSpark is not a program you should trust because it is supported via third-party advertising. The longer you keep this program installed, the more information it will gather about you, which means that more attractive ads could be shown. Unless you are familiar with all parties capable of spying on you and showing you ads, you should not interact with them. The problem is that the search tool associated with this program can show sponsored links, which means that you might interact with ads by accident. Obviously, we advise deleting unreliable software from your PC, and you can do that using the guide above. In case this suspicious extension was installed onto your browsers along with extremely aggressive threats, you might have to use the instructions below as well.